'I Have Nothing More to Say': CNN's Stelter Battles Islamic Cleric Over Hannity, Propaganda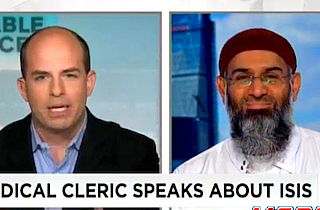 In a rapid and wide-ranging interview, an often incredulous Reliable Sources host Brian Stelter talked to risible Muslim cleric Anjam Choudary, most recently seen yelling it out with Sean Hannity, over why he engages with western media, how he views the role of propaganda on either side, and Choudary's invocation of 9/11 and 7/7 during sound check.
Choudary, who refused to condemn the execution of James Foley, said that Muslims "see [western] journalists as really the propaganda machine of the Obama machine."
"That's a crazy thing to say given that the only reason you know about the abuses of Abu Ghraib is because of American journalists," Stelter replied, to Choudary's objection.
RELATED: Sean Hannity Tells Controversial Imam: 'You're One Sick, Miserable, Evil SOB'
During an argument over whether moderate Muslims would reject Choudary's interpretation of Islam, he accused them of "being paid by the government to say what they say."
"Oh give me a break," Steler said. "Now you're just making up stiff."
Next Stelter asked why Choudary bothered to go on shows like Hannity at all.
"I don't believe that there's any platform which should not be utilized to pass the message Islam," Choudary said. "I know that Sean Hannity going to interrupt, I know he's been rude to some of his guests, but in the end of the day between that I can try to pass the message of Islam, I can try to counter some of those arguments. …I think you can see from the reaction on social media that I won that debate and many people are looking at what I actually said and ignoring what Sean Hannity said."
During sound check, when guests usually count to ten, Choudary instead counted "9/11, 7/7…" When Stelter confronted him about it, things got really contentious. "If you had a sense of humor, maybe you would have laughed," Choudary said. "It was just a sound check…If you want to make it a big deal, by all means, do so. But it makes you look much more shallow than me."
"I have nothing more to say," Stelter concluded.
Watch the clip below, via CNN:
[Image via screengrab]
——
>> Follow Evan McMurry (@evanmcmurry) on Twitter
Have a tip we should know? tips@mediaite.com