'I Never Said That!' Sens. Grassley, Schumer Get Heated Over Using Bombing As 'Excuse' To Delay Immigration Reform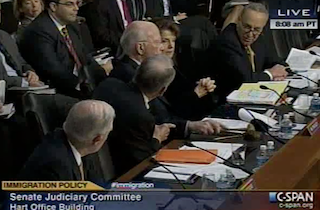 Sen. Chuck Grassley (R-IA) has been getting much attention since Friday, when he linked the Boston Marathon bombing to the debate surrounding immigration reform. And the senator got a bit touchy this morning during the Senate Judiciary Committee's hearing this morning when Sen. Chuck Schumer (D-NY) pointed to "colleagues" who wanted to use Boston as an "excuse" to delay immigration legislation.
RELATED: John McCain Blasts GOP Senators Citing Bombing To Delay Immigration Reform: 'That's Ludicrous'
"Our immigration bill has received widespread support and praise…the American people are overwhelmingly in favor of immigration reform," Schumer remarked. "And will not be satisfied with calls for delays and impediments towards the bill. I would say to my colleagues — and I understand their views are heartfelt — the chairman has a very open process."
"I say that particularly to those who are pointing to what happened, the terrible tragedy in Boston as, I would say, excuse for not doing a bill or delaying in many months or years," he added.
"I never said that!" Grassley interjected. "I never said that!"
"I never said you did, sir," Schumer replied, as Sen. Jeff Sessions (R-AL) chimed in to add that he didn't "appreciate the demeaning of witnesses."
"Those remarks were not aimed at anyone on this committee or the three witnesses," Schumer sought to clarify. "There were people out there, you read it in the newspapers, who've said it."
Earlier during the hearing, Sen. Patrick Leahy (D-VT) criticized opponents of immigration reform who "began to exploit" the bombing. "I urge restraint in that regard," he said. "Let no one be so cruel as to try to use the heinous acts of two young men last week to derail the dreams and futures of millions of hardworking people."
Take a look, via C-SPAN:

Have a tip we should know? tips@mediaite.com