'I Screwed Up': Howard Kurtz Gets Grilled On Controversy Over His Erroneous Jason Collins Story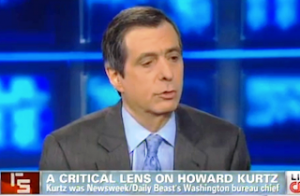 On Sunday's Reliable Sources, host Howard Kurtz was the one who took the grilling — following the recent controversy over his story about NBA player Jason Collins coming out as gay. POLITICO's Dylan Byers and NPR's David Folkenflik put Kurtz in the hot seat, questioning the mistake, past mistakes, and whether the ordeal is a hit to his credibility.
At the top of the show, Kurtz apologized for his mistake ("I screwed up"), explaining that he was "wrong" to the raise the question and do so in an way that displayed a "lack of sensitivity" and carelessness. He further apologized for his inadequate first correction to the story.
Kurtz, you may recall, was critical of Collins' piece — arguing that he left out the fact that he was previously engaged to a woman. A point, Kurtz argued, that undermined the open, honest nature of Collins' piece. The problem being: Collins did mention the engagement in the essay, and wasn't hiding or omitting it.
"It was a mistake that I made and it was sloppy and inexcusable," Kurtz said. "I am truly sorry."
"Why didn't you have the decency to apologize to him at that time when you knew what you had written was wrong?" Folkenflik asked.
"I handled it wrong and convinced myself that I could soften the wording," Kurtz replied. "I should have retracted it immediately."
Byers then jumped in to press Kurtz on why, in the video he taped for the Daily Download, Kurtz felt the need to mock Collins. Kurtz said it was inappropriate, apologized, and said she shouldn't have taken Collins' move so lightly.
He further addressed the "amicable divorce" between himself and The Daily Beast. While their parting of ways was announced right after the controversy, Kurtz said the departure was already in the works and not a direct result of his mistake.
Byers was quick to note that Kurtz has made "a number of mistakes" in recent years: "You claimed to have interviewed Darrell Issa and later admitted that you actually had interviewed one of his aides. You attributed a quote to Nancy Pelosi that it turns out she did not say. In addition to this, you also said that Fox News host Greta Van Susteren was casting doubts on Hillary Clinton's illness. In fact she had been a defender against people who had cast such doubts."
Kurtz noted that he's human and does slip up, but Byers pressed further and asked why it was so hard for Kurtz to just come and out say he's wrong when the mistake occurs. While Kurtz emphasized his long career and general attention to detail, he admitted that he's not been the quickest to set the record straight in some instances.
Byers and Folkenflik also took on the issue of Kurtz's role at the Daily Download, which Kurtz insisted he's been very open about. He told the pair that he's been a freelancer and an unpaid advisor with no financial stake in the company. Doubts have been cast, however, about the murky nature of his role with the site. On the show, Kurtz repeatedly said he's had a limited role that he's disclosed.
Citing factual errors, errors of judgement, transparency, Byers asked, "If you were looking at yourself, what would you say about that journalist's credibility?" Kurtz emphasized his long career, noting that mistakes do lead to a loss of credibility but that he "would like it to be viewed in the full context of my career."
Though Kurtz said he is determined to the learn from the mistake, he was reminded that he apparently did not learn from recent mistakes. "I am taking this very seriously," he emphasized.
Watch below, via CNN:

Have a tip we should know? tips@mediaite.com