'I Tend to Work Off What I Don't Know': HLN Asks Psychic to Investigate Missing Plane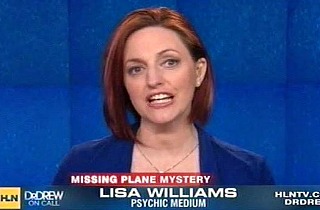 Over the last week, CNN personalities like Richard Quest have discussed the use of professional psychics as a potential tool in the investigation into missing Malaysia Flight 370. On Thursday night, HLN invited a psychic to discuss what she think may have been the fate of the lost airliner and the 239 souls that were on board that plane.
"I am all for wanting to believe in mysticism and psychics," HLN host Jenny Hutt began, "but I'm, eh, I don't know."
Guest host Lynn Berry told Hutt that her skepticism was deserved. With that said, she proceeded to invite a psychic to weigh in with their thoughts on what happened to the passengers on board MH370.
"Naturally, I don't have hard, concrete evidence," Lisa Williams confessed. "I think any psychic who has hard, concrete evidence can't do their job correctly."
"They'll just work off what they know," she continued. "I tend to work off what I don't know."
RELATED: CNN's Don Lemon: 'Is It Preposterous' to Think a Black Hole Caused Flight 370 to Go Missing?
Williams said that her powers are telling her that some of the passengers are still alive and are being held in an undisclosed location. She added that she knew this because she was attempting to contact MH370's lost passengers for their living relatives.
"I do believe that it actually crashed, and I see a lot of trees," Williams revealed. "I think there is a larger organization behind this that is leading us off track with this debris."
"Do you think we're going to get an absolute resolution?" Hutt asked Williams.
Williams said that she was just informed by the voices in her "witchy woo land" that the mystery behind the plane's disappearance will be finally resolved "within the next three weeks."
Watch the clip below via HLN:
[Photo via screen grab ]
— —
> >Follow Noah Rothman (@NoahCRothman) on Twitter
Have a tip we should know? tips@mediaite.com