'I Thought You Guys Didn't Like Polls': Chris Cuomo Hits RNC Spox For Citing Trump's Approval Rating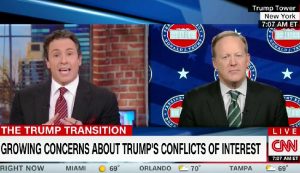 On this morning's broadcast of CNN's New Day, host Chris Cuomo and Republican National Committee communications director Sean Spicer tangled over President-elect Donald Trump's transition and potential conflicts of interest with his business dealings.
Spicer repeated his previous claims that Trump has been extremely transparent about naming his children, who are supposed to take over his businesses, to the transition team, making the case that he isn't being sneaky about anything. The RNC spox also said that lawyers are currently working through the process to create a "clear delineation" between his business and serving in the White House.
Cuomo pushed back on Spicer, noting that that Trump's kids are sitting in on meetings and Cabinet selections while getting ready to take over the business, pointing out how that represents a conflict of interest. He then explained how the public would have a better understanding of Trump's businesses if they could see his tax returns.
In response, Spicer highlighted how Trump released financial disclosures, and then pivoted to explaining how the American public "overwhelmingly" for Trump. He added that since being elected, Trump's approval rating has improved 20 points.
"I thought you guys didn't like polls," Cuomo shot back. "But if we want to play with them, we know that more people are concerned about his business dealings than those who are not."
The CNN anchor continued, "We know that his approval rating is low compared to where other president elects have been at this point. But let's dismiss the polls. You said they overwhelmingly voted for him."
Cuomo then went on to explain why Trump's victory couldn't be seen as overwhelming, stating that it is one of the lowest electoral margins in history. When Spicer replied that CNN and the rest of the media thought Trump was going to get crushed, Cuomo asked "how is that relevant" and proceeded to tell his guest that Trump lost the popular vote by millions and that it all came down to about 100,000 votes in three swing states.
Cuomo also suggested that Spicer brought this all up as a distraction and pushed the conversation back to what he sees as a lack of transparency of the Trump transition.
Watch the clip above, via CNN.
[image via screengrab]
–
Follow Justin Baragona on Twitter: @justinbaragona
Have a tip we should know? tips@mediaite.com