'I Want A Girl Like The Girls On Fox News' Is The Best Country Song Ever Written… About Fox News
'I Want A Girl Like The Girls On Fox News' Is Best Country Song Ever Written... About FNC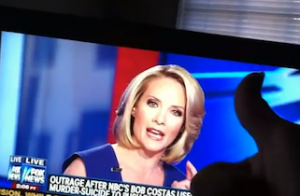 Everyone knows Fox News has a special penchant for hiring beautiful, primarily blonde, women to anchor its daily programming. And this fact did not slip by unnoticed for country singer Austin Cunningham, who has penned a tribute to "The Girls Of Fox News" that's currently blowing up on YouTube.
Cunningham sets the scene in his song, by explaining that he "used to be a Democrat," until he started watching way too much Fox News.
Well I used to be a Democrat, Liberal no doubt
I didn't think Conservatives knew what life's about
Then I started leaving the Fox News channel on.
If that's the face of the right, I'll tell the left so long.
In the chorus of catchy tune, Cunningham praises "whoever does the hiring" over at Fox for knowing how to pick the ladies he loves.
Oh, I want a girl like the girls on Fox News
Everyone is beautiful, anyone you choose
Whoever does the hiring knows how to light my fuse
I want a girl like the girls on Fox News.
Cunningham told conservative website WorldNetDaily, "The idea for the song came from a phone conversation I was havin' with a buddy and I said something like, 'Have you noticed how good-looking the gals are on Fox News?"
And who is Cunningham's favorite Fox anchor? "If I absolutely HAD to choose one Fox anchor/contributor," he said, "I suppose it would have to be Megyn Kelly. She is like the new 'America's Sweetheart.' She, and seriously all these gals, seem to be what our elders used to describe as 'lovely.' Meaning looks certainly, but also with qualities like elegance, grace, intelligence, wit and kindness."
The music video for the song, which mostly consists of shaky shots of the various Fox ladies on Cunningham's TV with a conspicuous thumbs up silhouetted in the foreground, was uploaded to YouTube a little over a month ago and saw little to no traction at first. But it appears to have recently picked up steam after being passed around conservative and country music websites.
Enjoy Cunningham's country music masterpiece in all its vaguely sexist, awkwardly obsessive and somehow genuinely sweet glory below:
—
>> Follow Matt Wilstein (@TheMattWilstein) on Twitter
Have a tip we should know? [email protected]