'I Would Check That Podium For a Raw Onion': Tantaros Criticizes Obama's Tearful Address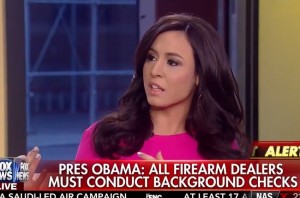 Today President Barack Obama spoke to the press and the nation from the White House about his forthcoming executive action on gun control. During his address, the president referenced specific incidents of gun violence that have shaken the country in the past few years. When he got to the Sandyhook massacre, he started to visibly cry, wiping streams of tears from his face.
Many viewers found this touching, taking to Twitter and other social networks to voice their support for Obama's emotional display. Some pundits, however, were much less impressed, citing a lack of emotional response to other tragedies as the reason this one felt disingenuous.
On Outnumbered, which aired on Fox News immediately after the President's address, Harris Faulkner and other guests discussed how fake they found Obama's crying.
Meghan McCain was on hand to share that it "didn't seem horribly authentic" and "feels like bad political theater."
Melissa Francis pointed out that many had been surprised when Obama showed almost no emotion following the terrorist attacks in Paris. "It was sort of staggering how he was not emotional about this thing that was so terrifying," she said. She went on to say that today's tears disproved those who defended Obama after the attacks by saying, "He's just cool, that's just how he is, and he doesn't get emotional."
Delivering the most brutal commentary by far was Andrea Tantaros (a frequent critic of the President's public reaction to violence) who quipped, "I would check that podium for a raw onion."
Image via screengrab.
For more from Lindsey, follow her on Twitter.
Have a tip we should know? [email protected]