'I Wouldn't Want To Be In A Foxhole With These People': Trump Reacts To McCain's Unendorsement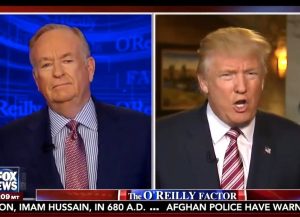 Shortly after trashing Speaker of the House Paul Ryan in an interview with Fox News' Bill O'Reilly, GOP presidential nominee Donald Trump moved on to Sen. John McCain (R-AZ), who recently unendorsed Trump in wake of his "grab 'em by the pussy" comments.
Just like with Ryan, Trump targeted McCain on Twitter earlier in the day, calling him "very foul mouthed" and stating that the Arizona lawmaker "begged" for his support in his Senate primary.
He continued that train of thought on The O'Reilly Factor, remarking that he felt "badly" for McCain's primary opponent, calling her a "very, very good woman" and expressing regret for endorsing the "desperate" Senator. He then repeated how McCain has a dirty mouth.
While slamming McCain, O'Reilly interjected, informing Trump that if he's POTUS, he'll need guys like Ryan and McCain. The GOP candidate brushed that off, stating that he gets long with everyone, even if the Fox News host can't believe it. When O'Reilly pushed back, saying "what good is it to trash these men," the real estate mogul answered with the following:
"Because he was begging for my endorsement of his friends are calling. And then the first sign of a little bit of difficulty, he unendorses me. I wouldn't want to be in a foxhole with these people, including Ryan, especially Ryan."
It should be noted, once again, that John McCain spent years as a POW in Vietnam during a time when Trump avoided military service. And that McCain endorsed Trump even after he called him "not a war hero."
Watch the clip above, via Fox News.
[image via screengrab]
Have a tip we should know? tips@mediaite.com