If All We Learned Yesterday Was That Benghazi Was A 'Terrorist Attack,' Then We Didn't Learn Anything New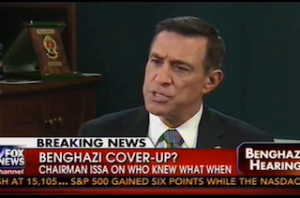 It was little more than one week ago that Fox News' Ed Henry first asked President Obama the loaded question that ultimately led to yesterday's Benghazi "whistleblowers" hearing in Washington. Conservative media outlets had been breathlessly previewing the "explosive" revelations that were sure to come out of the testimony from diplomats who were on the scene that September night in Libya. Could this be President Obama's "Watergate?" Would it kill Hillary Clinton's chances at becoming the first female president in 2016? All would be revealed after Wednesday's hearing.
Perhaps the most telling summation of the proceedings came from Rep. Darrell Issa (R-CA), the driving force behind the investigation as Chairman of the House Oversight and Government Reform Committee. Issa, who has been dogged in his pursuit of the "truth" about the Benghazi attack, spoke to Fox News' Greta Van Susteren following the hearing to share what he had learned.
"You have gone through all the documents, you have talked to people for weeks leading up to this," Van Susteren asked the congressman. "I'm curious, did you learn anything new today?"
Issa's response was as follows:
"I think the American people learned today from these brave witnesses, these whistleblowers, that the facts as we were told before during and after the attack at Benghazi just simply aren't what they really were. The acting ambassador after Ambassador Stevens was murdered, told us in great detail about what happened that day and what happened in the days to follow and why we should know that he knew and everyone else in the mission knew from the moment it happened, from the get-go, as he said, that this was a terrorist attack."
Not exactly a yes or no answer to Van Susteren's simple question.
If this hearing was designed to allow the "whistleblowers" to reveal the damning information that would turn this story on its head, what were those revelations? If it's simply, as Issa suggested, that the attack on the U.S. consulate in Benghazi should be considered a "terrorist attack," that is certainly not new information. While State Department official apparently did believe for a period following the attack that there was a connection to protests in Cairo over the "Innocence of Muslims" YouTube video, anyone who watched the second presidential debate last year knows that Obama called the attack an "act of terror" the day after it occurred.
After watching diplomat Gregory Hicks deliver his emotionally wrenching, highly detailed testimony about what happened on September 11th, 2012 yesterday, it's hard to deny that there were significant communication errors that occurred during the chaos of the attack and in the days that followed. But if Chairman Issa's big takeaway from the hearing was that "we've always known this was a terrorist attack," then it's time for the ongoing accusations of a massive "cover-up" sinisterly orchestrated by Obama and Clinton to stop.
Watch video below, via Fox News:
—
>> Follow Matt Wilstein (@TheMattWilstein) on Twitter
Have a tip we should know? tips@mediaite.com