Every now and then a totally weird, but incredibly endearing person finds its way into the local news spotlight, armed with potent quotables and sometimes an ax.
Our last major local news celebrity was Kai, the hatchet-wielding hitchhiker with a troubled past, but he turned out to have possibly murdered a man — leaving everyone brokenhearted at the possibilities.
And then today we discover his possible heir: Sir John Michael of Oklahoma.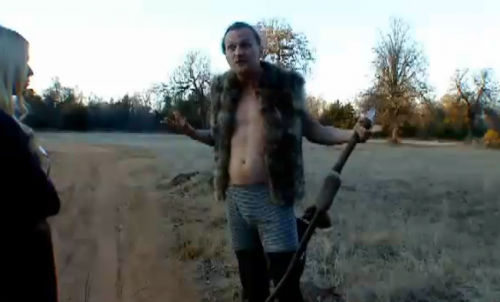 He's a cross between The Dude and Conan the Barbarian — part psychedelics-tinged philosopher, part macho man who just wants to work on his car.
And in Lebowski fashion, he's the hapless protagonist caught between the law and criminal elements.
The backstory: Oklahoma County police heard reports of gunfire from the home rented by Sir John Michael. Turns out, it wasn't gunfire, but just him getting frustrated while repairing his car. But police searched the premises anyway and found a shitload of marijuana, which belonged to Michael's landlord.
News9 got the chance to interview Sir John Michael for his perspective, and oh wow, he's one heroic weirdo. To the highlights:
"I saw the police helicopter circling around very low, and last week they were doing the same thing, because I was laying out nude. I thought they were looking at me," he said. You can almost envision him skulking around in his backyard, naked and paranoid, with Nilsson's "Jump into the Fire" playing, a la Goodfellas.
He cleaned up for the TV interview by putting on some underwear over a pair of leggings.
He spouts stoner wisdom: "If life gives you lemons, fuck life."
His hair is a source of coolness under pressure: "I heard some sirens and through the forest to the west a half a dozen guys with their guns drawn on me said 'Put down the gun,' and I was twirling my ponytail."
He walks around with a cane that has a crystal affixed to the top of it. He's basically Gandalf.
He doesn't live in the marijuana-growing home. He lives in a school bus nearby, for mysterious reasons: "It happens to be my mother… and my ex-wife… why I live out here."
And on his landlord's drug-growing ways: "I don't think that's an issue. I think cannabis should be legal."
Bravo.
Watch below, via News9:
— —
>> Follow Andrew Kirell (@AndrewKirell) on Twitter
Have a tip we should know? tips@mediaite.com