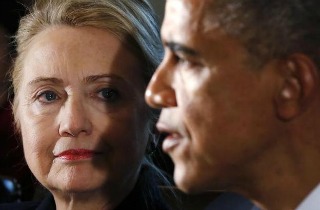 Former Secretary of State Hillary Clinton must be thrilled about this:
"If you are President Barack Obama and you want to be a transformational president, getting to that transformational stage sometimes requires you get a third term," NBC News Senior Politics Editor Mark Murray submitted amid a sleepy Monday segment packed with idle speculation about the 2016 election cycle.
"People in the White House, and President Obama, I am sure they would love to have a third or fourth term," Murray continued. "That is some of the reasons why some of the people in the Obama orbit are happy about a potential Hillary candidacy, because it does provide a best opportunity for the third Barack Obama term or third Bill Clinton term however you want to put it."
Frankly, if Obama needs a "third term" in order to be viewed as a transformational figure, the verdict of history is all but assured that his presidency will not be viewed as a particularly revolutionary one.
The first obstacle Obama will face in his quest for a "third term" is that a majority of voter appear determined to deny him one.
A USA Today/Pew Research Center survey released today reveals that voters, by a 2-to-1 margin, are signaling that they prefer a "change" candidate in 2016. 65 percent of those registered voters surveyed said they want the next president to pursue policies that are dissimilar to those Obama has backed. Only 30 percent of the universe of potential voters say they hope the next president pursues Obama's agenda.
The president himself seems aware of his ability to poison the well for his prospective successor. Cornered by CBS News reporter Major Garrett in mid-April, Obama was pressed on whether a presidential bid by either Clinton or Vice President Joe Biden would amount to a "third term of the Obama presidency." Obama enthusiastically denied that it would.
"I don't want to necessarily jam them up," Obama asserted.
Garrett was unconvinced. "If former Secretary of State Hillary Clinton runs or Joe Biden runs," the CBS reporter later said, "it will be almost impossible not to run on essentially an extension of the Obama presidency."
Murray suggested that President Ronald Reagan is viewed as such a transformational figure because he secured for himself what was essentially a third term when Vice President George H. W. Bush won the White House in 1988. But that has happened only once in the post-War period and every president has been "transformational" in varying degrees.
If Hillary Clinton is seriously weighing the risks and rewards associated with a second presidential campaign – and her allies are strongly signaling that she maintains some reservations about a second bid — the notion that she could serve to ratify Obama's presidency is not an especially persuasive prospect. As important as his presidential legacy is, no prospective candidate aspires to follow in George H. W. Bush's footsteps.
The challenges a Democratic presidential candidate will face in the effort to replace a two-term president from their party are daunting, but they are not insurmountable. The Democratic nominee will have to embrace the "change" that voters want to see in their next president, but that necessarily means creating distance from Obama. Aware of this, Clinton has been exposing all the daylight between her policy prescriptions and Obama's as she can.
Speaking to a variety of audiences over the last year, Clinton has adopted a more hawkish tone on issues ranging from Iranian nuclearization, to the Syrian civil war, to Russia's intervention in Ukraine. As Clinton prepares to embark on a book tour next month, the extent to which she further distances herself from her former boss will be an important indicator of just how seriously she is planning on to mount a bid to replace him.
Of course, virtually every president is "transformational," but not all are remembered that way. History's verdict on whether a president truly altered the trajectory of American politics is a reflection on the presidency and not that president's successor.
If Obama needs a "third term" in order to be perceived as a transformative figure in American politics, he's in trouble.
Watch the clip below, via MSNBC:
[Image via Kevin Lamarque / Reuters]
— —
>> Follow Noah Rothman (@NoahCRothman) on Twitter
Have a tip we should know? tips@mediaite.com