Ignorance Or Arrogance? CNN Panel Races To Declare Tonight Show 'Irrelevant' And Leno Universally Disliked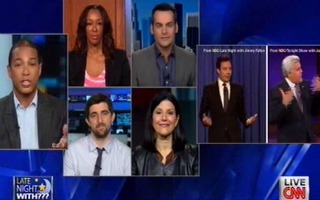 In a spectacular display of ignorance, matched only by unjustified arrogance, a panel of guests on CNN on Friday afternoon declared the longest running late night talk program in history, The Tonight Show, irrelevant. Furthermore, the panel guests continued, Jay Leno has intentionally abandoned his edge and is generally unloved. The vapidity on display here should embarrass the individuals who participated in this panel. Judging from their unalloyed haughtiness and condescension, however, one has to doubt that this group of CNN commentators is capable of embarrassment.

RELATED: Jay Leno Finally Addresses Fallon Changes With Another NBC Joke…
"Let's talk Jay Leno getting booted," CNN anchor Don Lemon began. He noted that the late night comedy host is rumored to be on the way out when his contract with NBC expires next year.
What followed was a mortifying display of groupthink and one-upmanship.
"My problem with Leno is, didn't you learn this before when they were going to replace you with Conan [O'Brien]?" asked radio personality Dede McGuire. She said it was classless of Leno to go after his bosses – because, unlike television, radio personalities never highlight their problems with management. "Truthfully, I'm bored with it," McGuire continued.
"What does The Tonight Show even mean anymore?" mused the Socratic radio host Mara Davis. "It's almost irrelevant now."
"Jay Leno made it irrelevant though," interjected BuzzFeed sports editor Jack Moore.
"Jay Leno, for some reason or another – listen, especially comedians – late night talk show hosts, they don't have a lot of nice things to say about Jay Leno," noted Lemon.
"Nobody likes him," Davis offered thoughtfully, without noting that Lemon was describing the thought and feelings of Leno's direct competitors.
"He slowly sanded down every edge he had to become this milquetoast bore," Moore added. "Saturday Night Live is still relevant years, and years, and years later."
Talk show host David Begnaud opined that Leno is simply not funny.
"Howard Stern!" Davis shouted, in an effort to suggest a replacement host who is relevant — the irony of that assertion lost on none but her.
The Tonight Show first aired in 1954 and enjoys the title of longest running entertainment program in the history of television. It has featured legendary hosts including Jack Parr, Steve Allen and Johnny Carson.
The long knives are out for Leno in the media. Why? Many have speculated that his regular skewering of President Barack Obama or his flippant attacks on NBC's executives during his nightly monologues are the reason behind the media's attacks.
But the facts speak for themselves. While many stories about Leno's ratings ratings are qualified with a "but" of some kind, each must concede that Leno continues to best all his competitors.
Within the comedy community, as chronicled in this Wall Street Journal article, many continue to harbor grudges about Leno taking The Tonight Show back from O'Brien in 2010. That complicated episode left some feeling like Leno had undercut O'Brien and sabotaged his colleague's success. There is something to be said for that. But to support the claim that Leno is entirely disliked, one would require evidence not provided by either his ratings or his sold out weekly performances at Los Angeles' iconic Comedy Store.
Much like politics, entertainment as a profession – and standup comedy as a subset of this field – is regularly evaluated by armchair analysts on the sidelines. This panel, featuring a din of discordant voices all opining louder than the other and caring little for the substance of what they are saying so long as they are being heard – is a sad example of where media criticism has gone off the rails.
After viewing this panel, one is left with the impression that you are watching a four individuals pad their resumes rather than seeking to offer measured and deliberative commentary.
Via CNN, watch this panel discussion at your own peril:
> >Follow Noah Rothman (@NoahCRothman) on Twitter
Have a tip we should know? [email protected]