Ignoring Kermit Gosnell Infanticide Factory, MSNBC Investigates If GOP Voters Too Culturally Pro-Life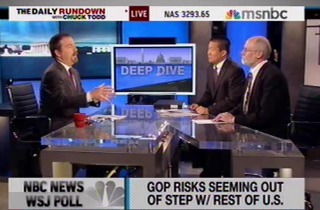 As examples of self-parody go, you can't do much better than this. As the story of Philadelphia "house of horrors" abortion doctor Kermit Gosnell explodes on the internet and makes its way gradually onto the radars of the nation's newsroom editors, questions have arisen about why this sensational story never received the wall-to-wall treatment it appears to merit. From conservatives and liberals alike, the universal horror that the Gosnell story has inspired is palpable. But some have suggested that the story is politically inconvenient for absolutist pro-choice activists. It simply does not fit the narrative, some say, which the media has come accustomed to reporting. A rather textbook example of this narrative stewarding came today via MSNBC. The network has not yet reported on Gosnell's infanticide factory, but they took some time out of their busy programming day today to ask a panel of political professionals if the Republican Party's base voters are simply too culturally conservative – and too pro-life – for the party's leadership and the general electorate.

RELATED: Advocacy Media: Pro-Choice Advocate Spouts Outright Falsehoods Unchecked On MSNBC
MSNBC's host of The Daily Rundown and NBC News Chief White House Correspondent, Chuck Todd, played a clip for a Republican and Democratic political strategist on Friday of Republican National Committee Chairman Reince Priebus last month lamenting of how the party is viewed by many as being aged and narrow-minded.
Todd noted that Rep. Paul Ryan (R-WI) gave an "important speech" on Thursday reaffirming the GOP's belief in a pro-life agenda, but cautioning that the way that the Republican Party makes that case will need to be more skillful and inclusive in the future.
"It seems that the leaders want to move the party in a different direction, but Republicans are in a different place," Todd opined.
"The Republican Party is a pro-life, pro-gun party that has these kinds of values that are part of our coalition," GOP pollster Bill McInteurff said unapologetically. He said that the GOP has to respect those values, but needs to show tolerance to those who do not share those values.
Todd turned to Democratic pollster Fred Yang and noted that independents are moving away from the GOP on cultural issues. Yang agreed.
It's hard to argue that the Gosnell story raises inconvenient questions for pro-choice editorial policy of makers in newsrooms everywhere. MSNBC, for example, regularly invites pro-choice political lobbyists on to advance their agenda – even allowing those guests to grossly misrepresent the facts in that pursuit – but often fails to provide equal time to pro-life activists.
Todd once coined the term "advocacy media" to describe conservative outlets which, he said, promote an agenda rather than simply report on the facts and allow their viewers or readers to reach their own conclusions. Let's take Todd's advice then and allow you, dear reader, to draw your own conclusions about MSNBC's glaring silence about the Gosnell story.
UPDATE: Lest you think that this was simply an oversight by Todd's program, MSNBC's straight news anchor Thomas Roberts and panel guests dug into a new NBC poll which shows that more people feel that restrictions on abortion rights are appropriate. One would think that the Gosnell case would dovetail well with this segment. One would think…
> >Follow Noah Rothman (@NoahCRothman) on Twitter
Have a tip we should know? tips@mediaite.com