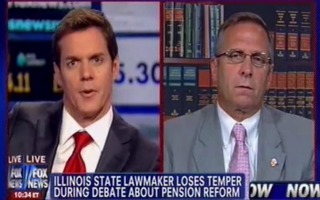 An Illinois state representative who was caught on tape going off on his fellow legislators over the state's large budget gap appeared on Fox News Channel with anchor Bill Hemmer on Wednesday. There, he explained why he engaged in that tirade and lamented his state's pressing fiscal problems.

RELATED: Bill Hemmer Says He'd Pull Kid Out Of School That Censored 'God Bless The USA'
Illinois state Rep. Mike Bost (R-Murphysboro) engaged in a fiery rant on the floor of the state House where he threw papers and screamed at his fellow representatives over the state's unfunded pension liabilities and Democrat-lead pension reform measures.
"These damn bills that come out here all the damn time, come out here at the last second," screamed Bost. "I've got to figure out how to vote for my people! You should be ashamed of yourselves! I'm sick of it!"
In an interview with Hemmer, Bost said that he doesn't "normally act that way."
"We're dealing with pension reform because of our large debt, which is tremendous," said Bost. "Unfortunately, at 7:40 we get a completely changed bill from the Speaker of the House that just decided on his own to create this bill. And it had a tremendous shift to the local taxpayers – to local homeowners onto property tax."
Hemmer clarified that the bill would shift responsibility for compensating for the state's debt by shifting the tax burden to downstate homeowners rather than the suburbs of Chicago.
Bost said that the pension issue is one symptom of a larger problem of Illinois' legislators spending beyond the state's means. Hemmer specified that Illinois is facing a 1.8 billion budget gap for FY2013.
"You can't continue to spend money you don't have," said Bost. "This issue is an issue that we, the Republicans, had taken a lead on. And all the sudden the rug had been pulled out from beneath us."
Hemmer concluded by saying he thought Bost would be "a lot of fun at a Chicago Bears game."
Watch the segment below via Fox News Channel:
Have a tip we should know? tips@mediaite.com