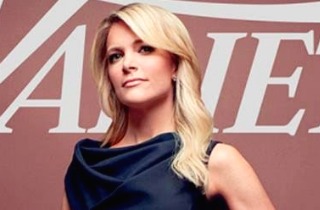 Megyn Kelly is clearly having a moment.
The Fox News anchor's recent exclusive interview with the Duggars got lots of attention and did very well in the ratings, while her interview with Jeb Bush set off weeks of debate about the Iraq War.
And this week, Kelly appears on the cover of Variety, accompanied by a lengthy profile/interview with some news about Kelly's future at Fox.
Roger Ailes revealed to Variety that Kelly will be getting a series of primetime specials––one-hour interviews akin to her interview with the Duggars.
Below are eight highlights from Kelly's comments to Variety.
How she reacted to Jon Stewart making fun of her:
Kelly said she wept when she saw an 11-minute clip of Jon Stewart skewering her reporting several years ago, but claims she's grown thicker skin. "When you're young and just starting, you think, 'Oh gosh, how much power does he have? Is he going to hurt me?'" Kelly asks. "Frankly, I really no longer listen to Jon Stewart. I think we've stood the test of time."
Her political affiliation:
"I have voted for both Democrats and Republicans," she says. "I'm an independent." She believes her lack of political ideology actually makes her a more effective reporter. "I'm not rooting for anybody," she says. "I'm a Fox News anchor, and I have no horse in the race. I can give anyone a hard time."
On the aforementioned specials:
Kelly believes there's an opening for this kind of long-form journalism on TV. "Barbara Walters has retired," Kelly observes. "Diane Sawyer left her anchor role. Oprah has moved to the OWN network and is doing a different thing now. So why not me?"
What surprises her about the people running to be Commander-in-Chief:
She's been able to successfully interview politicos, she says, by treating them as human beings. "I don't understand these politicians who want to be president, and complain when they get a tough interview," Kelly says. "If you behave like a stupid moron, you're going to get called out by me."
She wants to interview Caitlyn Jenner and a certain famous relative…:
Among those atop her wish list: Caitlyn Jenner, who has yet to give an interview as a woman. Kelly would even like a chance to grill Kim Kardashian-West on what her prominence says about American popular culture. "I want to know if she's a force for good or evil. I had someone make the argument that she's voluptuous, and maybe sending the message to young girls that you don't have to be a stick figure to be desirable," she says. "But I see the other argument too — it's all enhanced, and you send the message that you need to surgically alter yourself to the point of shocking to be attractive to men."
The possibility of doing a talk show:
Kelly doesn't rule out doing a talkshow down the line. "I'd have to see what's available," she says. "Daytime TV has changed a lot since the Oprah days. Right now I like the venue I'm in. I like the boss I have. I want to keep working for this boss and place."
On some of the behind-the-scenes drama surrounding her Duggar interview:
"The head of editing had five editors stay, which is unprecedented in the history of Fox News, because it requires money," Kelly deadpans. Thirty minutes before the show, the edit was still six minutes too long. "In response to which I sent an email that said, 'We are f—ed,'" recalls Kelly, who promises she rarely swears in emails. "You know how a person finds superhero strength to lift a car off a child? That's where I was at that moment. Everything became clear." The show was being edited as the broadcast started — and she kept telling her team not to celebrate as segments aired intact, because there was still a chance that viewers would be met with dead air in the middle.
On the idea of Fox News being a conservative stronghold:
"Nobody asked me about my political stripes," Kelly says. "When Roger Ailes hired me, he knew I was the daughter of a college professor and a nurse. There was nothing in this resume that would telegraph she's a secret conservative." She says she's never been told to go easy on Republican guests. "There have been so many times when I challenged Republicans on air — in big moments," she says. "And my boss keeps promoting me."
[image via Variety]
— —
Follow Josh Feldman on Twitter: @feldmaniac
Have a tip we should know? tips@mediaite.com
Josh Feldman - Senior Editor