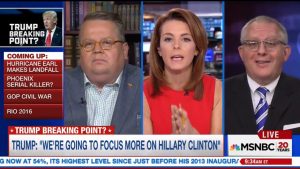 MSNBC dayside anchor Stephanie Ruhle was speaking with two Donald Trump supporters today, and ended up locking horns with one of them for insinuating that she's advancing Hillary Clinton's talking points.
Trump adviser Barry Bennett and former Trump staffer Michael Caputo appeared on MSNBC Live, where Ruhle engaged them on recent reports of frustration and a potential implosion in the Trump camp. The conversation eventually turned to Trump's feud with Khizr Khan, and Ruhle asked about whether campaign chairman Paul Manafort truly has the campaign under control, when the controversy is proving to be yet another distraction from the campaign's core message.
Caputo rejected reports of the Trump campaign's chaos, and said that the reason the rumors are getting so much play is because "the media is covering what Hillary Clinton wants."
"You know what? I'm not going to allow that," Ruhle responded. "You're saying the media is only covering what Hillary Clinton wants. These are Donald Trump's words day in and day out. They have nothing to do with Hillary Clinton."
Caputo then said that the narrative that Trump attacked Khan is being advanced by Clinton, and therefore, the feud's play in the media is proof that the press is in her pocket. "I don't get any talking points from anyone," Ruhle shot back, and she asked Caputo if he thought it wasn't an attack when Trump said Ghazala Khan was probably ordered into silence on the DNC stage.
Watch how Caputo responded in the video above, via MSNBC.
[Image via screengrab]
— —
>> Follow Ken Meyer (@KenMeyer91) on Twitter
Have a tip we should know? tips@mediaite.com