IMF Chief Dominique Strauss-Kahn Facing Charges Of Attempted Rape And Sexual Assault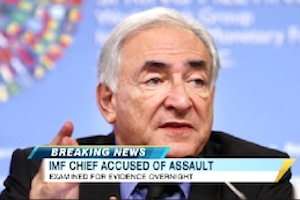 Its fair to say that Dominque Strauss-Kahn, the now former head of the International Monetary Fund, did not have a very good weekend. Why? Because he is now under investigation facing charges of attempted rape and sexual assault of a hotel maid while staying in a New York city hotel. It is fair to say that the political career of the French presidential hopeful might be over. Or perhaps the French celebrate this sort of behavior?
ABCNews.com reports:
International Monetary Fund chief Dominique Strauss-Kahn is expected to be arraigned this morning on charges that he sexually assaulted a maid at a midtown New York hotel over the weekend.

The IMF head and possible contender for the French presidency was arrested Saturday after a New York hotel maid went to police, alleging that she was assaulted in Strauss-Kahn's luxury hotel suite.

Strauss-Khan's attorney said outside a Manhattan court house Sunday that his client is innocent. Strauss-Khan is "tired and intends to vigorously defend the charges," said Ben Brafman, who has represented pop stars Michael Jackson and Jay-Z.

His attorneys confirmed that Strauss-Khan agreed to undergo a forensic imaging exam to examine his body for scratches or the accuser's DNA. Police escorted Strauss-Kahn at 11:20 p.m. Sunday night from the Harlem Special Victims Unit to a Brooklyn hospital where he voluntarily underwent the testing.
ABC News legal analyst (and Mediaite founder) Dan Abrams appeared on GMA this morning to discuss these charges and surmised that while its too early in the proceedings to predict its outcome, the charges facing Strauss-Kahn are very serious.
Have a tip we should know? tips@mediaite.com
Colby Hall - Founding Editor