Immigration Enforcement Director to Gohmert: 'I Would Appreciate You Not Yelling'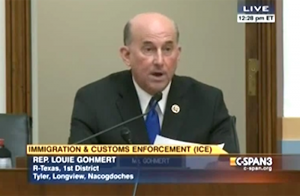 During a Congressional immigration hearing this morning, Rep. Louie Gohmert (R-TX) got into what could be described as a yellfest against Sarah Saldana, the director of the U.S. Immigration and Customs Enforcement.
While it was nowhere near the normal yellfest seen commonly on cable news, the volume of Gohmert's questions, focusing on the Obama Administration's move to grant deferrals to undocumented immigrants in seeming violation of a plan they'd presented to a federal judge, was pretty loud for Congress.
"If you don't like fraud, does it bother you that your Homeland Security Department that you work for has actually instigated a fraud among the United States District Court for the Southern District of Texas?" Gohmert said, at a volume not consistent with Indoor Voice.
"Representative Gohmert, with all due respect, I would appreciate you not yelling," Saldana said. "I will answer your question as best I can, but…"
"Well, thank you for your dilatory answer, but I'd like an answer," the lawmaker replied.
Saldana then said that she could hardly answer a question about pending legal action concerning the actions of any other federal agency that wasn't ICE, because that's not what she does. Gohmert remained skeptical, however: "You're telling us in this hearing that you have no idea where the November guidance came from?"
"As they say in federal court, asked and answered," Saldana retorted.
Watch below via C-SPAN3:
[h/t Grabien]
[Image via screenshot]
—
>> Follow Tina Nguyen (@Tina_Nguyen) on Twitter
Have a tip we should know? tips@mediaite.com