Impeachy Not-So-Keen: Sen. Susan Collins Also Doesn't See Impeachment Over Benghazi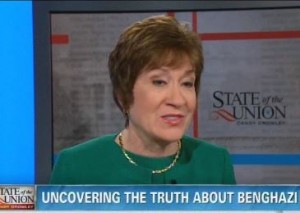 Senator James Inhofe (R-OK) procured a significant amount of ink this week by raising the specter of impeachment, but even President Obama's most vociferous critic on the issue of Benghazi is saying that the "i-word" should not apply here. On Sunday morning's State of the Union, Senator Susan Collins joined Senator John McCain in pushing back on Inhofe's suggestion. Host Candy Crowley asked if " the impeachment word should come up," to which Collins replied, "I don't, at this point."
Sen. Inhofe said, of the much-hyped Benghazi hearings and leaked emails, that "We may be using the 'i-word' before long."
Crowley played a clip of Inhofe's remarks, and asked Collins, "Do you see something in Benghazi, either in the handling before, during, or after with the talking points that were scrubbed, that the 'i-word,' the impeachment word should come up?"
"I don't, at this point, I will say," Sen. Collins replied, but didn't leave it there.
"That doesn't mean that these allegations aren't serious," she continued. "Joe Lieberman and I did a preliminary investigation into the events into the attacks on Benghazi last fall, and we had a career CIA agent, who was the woman who first drafted the very first talking points, tell us that there was no national security reason for the line about the links to al Qaeda to have been dropped from the talking points. So clearly, politics was at play here."
"If that is so," Crowley said, "is it not a cover-up on a scale of — I mean, why do you think they would do this? Do you think it was to help the President get reelected?"
"I believe that because we were in the midst of the final weeks of a very contentious presidential re-election campaign, that one of the themes of this administration was that Libya was a success, that the military intervention had produced a stable pro-United States country that was moving toward democracy, and that al Qaeda was on the run. And what happened in Benghazi proved that neither of those narratives was accurate."
Whatever the reasons for the revisions to the talking points, however, Collins' claim is undercut by the fact that the President repeatedly referred to the attacks as an "act of terror" in the days following the attacks, and Amb. Susan Rice talked, specifically about al Qaeda and Ansar al Sharia, during her Sunday news show interviews.
Here's the clip, from CNN's State of the Union:
Follow Tommy Christopher (@TommyXtopher) on Twitter.
Have a tip we should know? tips@mediaite.com