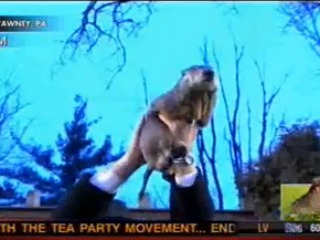 Socialite and celebrity muse Punxsutawney Phil woke up this morning to the sound of his name, looked down at his "I Hate Mondays" T-shirt, and considered going back to sleep. He'd grown tired of the routine, weary from the pressure, disillusioned with his celebrity. But Phil is nothing if not a dutiful little groundhog, and so he allowed himself to be pulled out of bed on this brisk February morning. Outside, the air smelled fresh. The day was new, and full of promise. Today is what I make it, thought Phil. He looked around. So many cheering faces. So many fans. So many top hats. And there it was: A shadow.
"This is all there is," sighed Phil, twitching the morning dew off his little nose. "The world is but shadows."
RELATED: Groundhog Day Live Stream From Punxsutawney, Pa.
Back in the Fox News studio, Fox & Friends host Gretchen Carlson felt a chill she could not explain. Her co-hosts were joking, their laughter echoing off the studio walls. "Now he knows what it feels like to be a politician," she observed, watching Phil wriggle his nose at his fans — and his detractors. "He was booed." She paused. The chill would not go. "Does he ever see it any other way?" She pushed a strand of blond hair from her face and smoothed her skirt. The studio was bright. Too bright. She winced, averting her eyes from the lights and cameras.
And there it was: Her shadow.
Have a look at Fox & Friends' segment, via Fox News:
Have a tip we should know? tips@mediaite.com