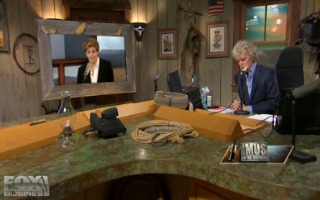 On Fox Business Network on Monday, host Don Imus called out liberal columnist Sally Kohn for expressing skepticism that a story Imus read in the Drudge Report was true. When a producer pointed out that Drudge only linked to a news services wire story, Kohn said if she did not express skepticism over the Drudge headline she could later be accused of validating a misleading story.

RELATED: Hannity Moderates Heated Clash Between Michelle Malkin And Sally Kohn
Imus asked Kohn about Sec. Hillary Clinton's visit to Egypt where her motorcade was attacked by protesters who hurled fruit and chanted "Monica" at her. Imus said that he had read about the story on The Drudge Report, which Kohn said she took at face value.
"I got up this morning and popped on Drudge," said Imus.
"There's your first problem," interjected Kohn.
Imus went on to describe how he regards the Monica Lewinsky scandal which still resonates around the world and haunts Sec. Clinton abroad as regrettable. Kohn said that she had not read the story for herself and questioned its veracity.
Imus went after Kohn for expressing skepticism about the story because it came from Drudge. "You can't keep talking when I'm talking," said Imus. "Because if you keep talking when I'm talking, you're not going to be on the program."
"I'm saying, I always take everything I hear from 'grudge' worth a grain of salt," said Kohn. She said that the story dovetails with what she calls a conservative 'anti-Arab Spring' bias and is thus skeptical of the report.
Imus asked her if Drudge made up the story, to which Kohn said "I want to get both sides."
When one of Imus' producers said that Drudge linked to Reuters which had originally reported the story, Kohn changed her mind on the subject.
"I was skeptical about Drudge and him as a source," said Kohn, not the story itself.
"Here's why the liberals are going to lose this time," said Imus. "It's because of people like you and President Obama who talk out of both sides of their mouth."
"Did you want to talk about anything else," said Kohn. "Or you wanted to try to make me look like a buffoon?"
"I didn't want to make you look like a buffoon, you did that yourself," replied Imus.
Watch the exchange below via Fox Business Network:
Editor's note: This post has been edited since its original posting – Jon Nicosia
h/t SallyKohn.com
> >Follow Noah Rothman (@Noah_C_Rothman) on Twitter
Have a tip we should know? tips@mediaite.com