Imus Calls Into Cavuto's Election Night Coverage, Proceeds To Trash Him, Fox Business, Everything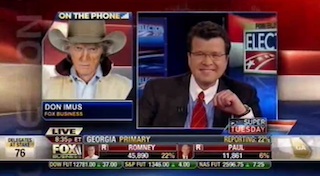 If there's one way that Fox Business Network has completely eclipsed Fox News, it's in the intra-network smack talk. Sure, Glenn Beck still appears on The O'Reilly Factor to banter with Bill from time to time, but he's not even on that channel anymore. And, tour dates aside, those two have never matched the joshing that goes on between FBN's Neil Cavuto and Don Imus. Last night, during Cavuto's Super Tuesday coverage, Imus called in to discuss one of his favorite topics; how much Cavuto's show sucks.
Imus launched right into it from the moment he began speaking, taking Cavuto to task for all of "the losers" he's been having on throughout the night and asking if he was expected to "save this turkey." Cavuto attempted to argue that he was merely trying to "inform the nation," to which Imus replied that that was Fox News' job, he's only on Fox Business.
Perhaps our favorite moment came when Imus ripped Cavuto's claims that it was too early to declare a winner in Ohio:
"Informing the nation? You're not informing the neighborhood! What's wrong with you? And, by the way, here's what regular people don't know and I'm gonna tell them. Fox News has the most sophisticated election apparatus on the planet. More than any other network. So you guys all know right now who won Ohio. You want to know why you won't tell us? Because we have to watch another stupid gold spot or hair removal commercial!"
A chuckling Cavuto wondered whether or not Imus would still have a job by the morning.
Watch the clip from FBN below:
Have a tip we should know? tips@mediaite.com