I was watching Kathy Griffin and Anderson Cooper ring in the New Year last night, but that unmistakable despite-what-Anderson-Cooper-may-say F-Bomb went completely over my head in the lobby of the Marriott Desert Springs Hotel in Palm Desert, aka Mediaite's West Coast Bureau for the holidays. I double-taked at the choice when we walked in (I would have assumed that old classic for the holiday-going family-friendly all-ages crowd, "Dick Clark's New Year's Rockin' Eve"), but then again, I saw Kathy Griffin play a sold-out show here, and let's just say the constituency is solid. But anyway, does a hotel lobby filled with cheerful, wholesome revelers in party hats count for ratings? In any case, here's my view of Kathy and Anderson last night….before we came back to the room, turned on the TV, and watched properly.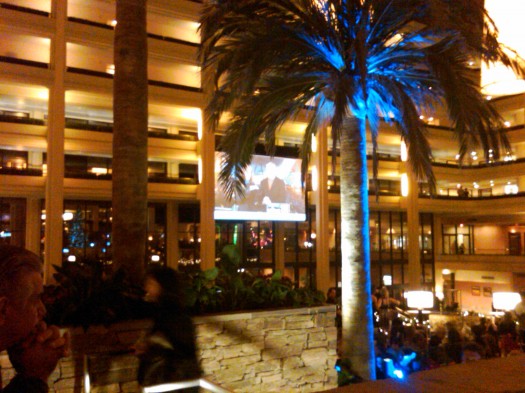 I can't believe she talked about doing coke on CNN. She's amazing. Why doesn't CNN get her to host a show? Kathy Griffin just talking, to anyone, who cares. Or tag-team her with Poppy Harlow, who would make an excellent foil. I liked how she seemed to have no filter, like when they cut to her after the ball dropped and she explained that everyone was now focused on trying to find a bathroom. Also, she was dancing even when there was no music. I guess it's impossible not to be cheerful when your name is Poppy. Also cheerful: John Zarella in Florida with Sushi the drag queen, who descends at midnight in a giant shoe. You GO for including that, CNN! But Kathy Griffin was definitely the glue. I love how she hushed Anderson as the ball dropped. The solution to CNN's ratings issues have been staring us all in the face the whole time. I am just saying.
Since I'm on the West Coast I had plenty of time to enjoy background-TV New Year's festivities, so I also enjoyed Bill Hemmer and Megyn Kelly on Fox (Kelly could not have looked more glamorous in that white coat with those white gloves, btw. Wow). This is the third anniversary of the Hemmer-Kelly pairing — like Cooper and Griffin — and they make a fresh-faced and cheerful couple efficiently shepherding the various New Year's events through the night — their show included pre-taped wishes from various FNC personalities like Sean Hannity, Gretchen Carlson and her Fox n' Friends, the super-nice-seeming Brett Baier with a sincere message for the troops, Jane Skinner with Jon Scott, who donned a military ball cap in honor of the troops (Scott's son is at West Point – read his affecting essay about it here). There was a message from Bill O'Reilly, and then of course there was a maudlin, half-sense-making rambling from Glenn Beck, who wants us all to get shirts that say "I Survived 2009." Jill Dobson was in the crowd in the Poppy Harlow position — I guess they're easier to pick out because theyr'e blonde. Dobson highlighted a couple getting engaged – very sweet. Actually, both Fox and CNN made it look rather fun to be in Times Square, despite the freezing, sleeting rain. It's always nice to be able to peek in — especially from amidst the palm trees. Happy New Yecade!
Have a tip we should know? tips@mediaite.com