In ABC Interview Apple CEO Tim Cook Defends Decision Not to Unlock Terrorist's Phone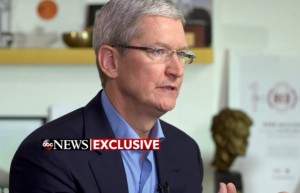 Apple CEO Tim Cook sat down with World News Tonight anchor David Muir in an interview aired on ABC Wednesday night, to discuss the delicate balance between data security and national security, privacy and safety, and to defend his position that Apple would not create software to allow authorities to break into a terrorist's phone.
After the FBI obtained a court order compelling Apple to unlock the iPhone of Syed Farook, one of the terrorists responsible for the San Bernardino rampage in December, Apple appealed the decision and Cook released a public statement explaining that the request set a "very dangerous precedent" for users' privacy.
Cook has previously argued that the authorities were asking for a "backdoor" to the iPhone, and that the technology could fall into the hands of malicious hackers, and that such a decision would set a precedent that would allow the government to expand its surveillance in the future.
Muir noted that some of the families of Farook's victims have come out in support of forcing Apple to unlock the phone. "They have our deepest sympathy," he said, but noted that "Apple has cooperated with the FBI fully in this case," delivering all the information that the company had access to.
"This case is not about one phone," Cook said. "This case is about the future." The implications of caving on Farook's phone would mean that the government could compel Apple to write software  — which he described as the "software equivalent of cancer" — that would make hundreds of millions of customers vulnerable, he said.
"We need to stand tall and stand tall on principle," Cook said. "There's probably more information about you on your phone than there is your house," he added, noting that such information includes vital details about the user's health and the locations of his or her loved ones. "It's not just about privacy; it's also about public safety," he said. He continued:
This is not a position that we would like to be in. It is a very uncomfortable position. To oppose your government on something doesn't feel good. And to oppose it on something where we are advocating for civil liberties, which they are supposed to protect, is incredibly ironic.
When asked if he believed unlocking the phone could prevent a terrorist attack, Cook responded, "David, some things are hard and some things are right and some things are both. This is one of those things."
Check out the complete interview above, via ABC News.
[image via screengrab]
Have a tip we should know? tips@mediaite.com