In Awkward Encounter On The View, Barbara Walters Tries To Squeeze News Out Of Katie Couric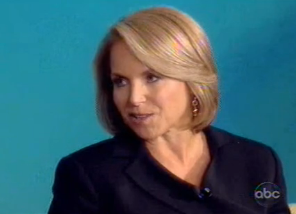 What's next for CBS Evening News anchor Katie Couric? If all the chatter's got it right, she's giving up the anchor chair and darting back to more comfortable turf, probably daytime TV. So here was Couric, on daytime TV's The View, sitting alongside Barbara Walters, who's made a career out of squeezing information out of tight-lipped celebrities. Could she get Couric to spill? Not exactly. "Every day you pick up the papers, it's another headline," Walters began, and Couric immediately said "it's boring."

Running down the various elements of Couric's rumored departure, Walters asked–with a large, smiling photo of rumored CBS Evening News replacement Scott Pelley behind them–"will you finally confirm you are leaving?"
Short answer: "No."
Under intense pressure to confirm any aspect of the many rumors about her, Couric pulled up the drawbridge, saying she hadn't made a decision, suggesting it wasn't her place to say anything, and then telling Walters "I respect you wanting to make news on The View, but I'm just not in a position to discuss it at this point in time." At this point in time? Did she think she was under oath?
Beyond that, Couric said she's "loving doing the Evening News," and is talking about "opportunities."
We'll see if Matt Lauer, who's figured in some of the Couric rumors, can get anything out of her when she visits NBC's TODAY Wednesday morning.
But this one's worth a look, if for nothing other than the underlying tension. Watch it, from The View:
Have a tip we should know? tips@mediaite.com