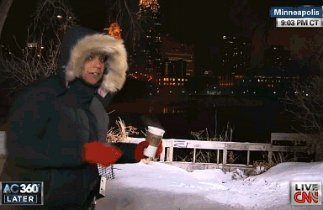 Working in cable news is like being a student in Bill de Blasio's New York:
There are no snow days.
Ferris Bueller wouldn't last a week working for the likes of MSNBC, Fox News or CNN, even on days like the one we're experiencing here in the New York/New Jersey area (13 inches outside of Chez Conch in North Jersey as of 1:30 PM). In short, news organizations are like hospitals and 7-11, they don't close. And on bad weather days, demand (from viewers) for breaking info invariably goes up, hence a need for all hands on deck.
Instead of risking employees' lives by forcing them to travel in dangerous conditions (14 deaths have been attributed to this winter storm thus far, for example, along with hundreds of accidents), all of the aforementioned networks offer those working on a bad weather day a company-paid hotel near the studio to avoid being trapped at home. And on a day like this, it could mean going in on a Wednesday and not getting home until Friday night. This isn't a sympathy play, mind you…it's all part of the unwritten contract going in.
This situation came about for me when working in cable news as a news writer and producer on more than a few occasions. But since I lived in Hoboken—which is right across the river from Manhattan—I always declined the offer to stay at a hotel despite the shift starting at 1:00 AM. The way I figured it, the only obstacle was making a one-mile walk from the apartment to the Hoboken PATH (subway) station. Once I was underground and away from the white stuff, getting to NYC was a breeze.
But then there was that storm in January of 2011. No cabs were available and Hoboken got a foot of snow seemingly in the blink of an eye. But like everyone else on staff, I was told under no uncertain terms that missing work was simply not an option when the hotel room was offered (and declined). So I put on my boots, three layers of clothes, my ski jacket, ski goggles, mittens (hey, they work better than gloves), hand warmers, foot warmers, my Quebec Nordiques ski hat, and off I went into what looked like white death.
All told, it took about 45 minutes to make that walk to the PATH (it was usually 15 minutes). Every step was exhausting. Upon arriving sweaty and cold at the newsroom, I ended up changing my soaked t-shirt (the first of those three layers) into a promotional extra-large t-shirt found in a random closet.
Of course, those clearing roadways or working in essential service jobs (police, fire, medical, etc.) have much more important roles, no doubt. But for what it's worth, those who make their living in the world of cable news—many of whom fall into the overworked/underpaid category—don't have it easy, even if everything looks so easy when presented on your screen at home.
Neither rain, nor snow, nor sleet, nor hail keeps the post office from delivering your mail.
Same rule applies for those in front of and behind the camera.
— —
>> Follow Joe Concha on Twitter (@ConchaMedia)
Have a tip we should know? tips@mediaite.com