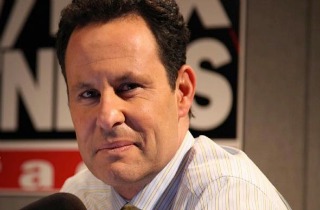 Fox News morning host Brian Kilmeade saw this week that where there's one harmless joke to be made, there's an army of journalists ready to fake an injury.
Fox & Friends on Monday aired video footage of former Baltimore Ravens running back Ray Rice on an elevator, knocking out his then-fiancee Janay Palmer with one punch.
Following the video, the show's co-hosts offered some comments.
Steve Doocy: "She still married him. They're currently married."
Kilmeade: "I mean, look at Rihanna went back to Chris Brown right after. A lot of people thought that was a terrible message."
Doocy: "And then there's Jay Z and Beyonce and Solange. That was also in an elevator."
Kilmeade: "But, you notice, Jay Z didn't hit back."
Doocy: "There was some craziness there."
Kilmeade: "I think the message is, take the stairs."
Both of Kilmeade's co-hosts gave a little giggle at that last remark. But the rest of the media, who had been listening with their ears to the ground, jumped on their horses to alert the village: A joke about domestic violence had just been made on Fox News.
"Brian Kilmeade is a pig," blared a headline on the angry women blog Jezebel.
Washington Post media blogger Erik Wemple called it a "new low" for Fox & Friends.
CNN's Carol Costello called Kilmeade's joke "the worst" and she said it made her want to "throw up." (Question: Will her CNN colleague Newt Gingrich be the one to hold her hair back?)
The Daily Mail called it "tasteless."
"Horrible," said the Huffington Post.
New York Times editorial writer Jesse Wegman may have been the most affronted. "Fox is welfare system for otherwise unemployable jackasses," he tweeted after Kilmeade's comment.
Kilmeade addressed the outrage the following day. "Comments that we made during this story yesterday made some people feel like we were taking this situation too lightly," he said. "We are not. We were not. Domestic abuse is a very serious issue to us, I assure you."
But he did not apologize, even further agitating the news media.
And he shouldn't have.
Kilmeade was not flippantly stating that Rice's then-fiancee should have done herself a favor and taken the stairs. He was offering a bemused observation that there have been two violent episodes this summer involving celebrities on elevators.
First was singer Beyonce's sister Solange who, while dressed in evening party attire, whaled all over a tuxedo-wearing Jay Z, Beyonce's husband.
And then, of course, there was Ray Rice.
So, a guy and a gal walk into an elevator…
Too soon? Probably. Because that's a joke about Ray Rice knocking a woman unconscious.
Jesus, what the hell is going on in elevators?
Good question, what is going on?
Like one of those Brazilian soccer players, the news media are ready to drop to the floor and hold their knees in agony whenever it seems safe. But that doesn't mean anyone has to apologize for it.
[Photo via Fox News Radio]
— —
>> Follow Eddie Scarry (@eScarry) on Twitter
Have a tip we should know? tips@mediaite.com