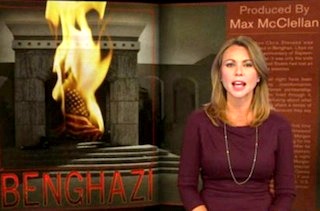 On Tuesday afternoon, CBS News announced that they had "asked" 60 Minutes correspondent Lara Logan to take a "leave of absence" and that she had "agreed" — i.e., she got suspended… indefinitely. So did her producer, Max McClellan, who also had a distinguished career at CBS News and worked on the story as the segment's producer. But does the punishment fit the crime?
Logan was the face of a politically charged and, as it turns out, inaccurate story the venerable newsmagazine show ran about Benghazi. Their reporting was based on the eyewitness account of Dylan Davies, a security officer who claimed that he witnessed the terrorist attack on the Benghazi compound that killed Ambassador Christopher Stevens and three other Americans on Sept. 11, 2012. The story was retracted after The New York Times reported Davies had told his employer and the FBI that he never actually reached the compound at all that night.
Once it became clear they had been duped, Logan publicly apologized for the mistake saying on CBS This Morning that "The most important thing to every person at 60 Minutes is the truth, and today, the truth is that we made a mistake," she said, calling it a very "disappointing" situation.
After all, what makes a show like 60 Minutes different from, say, a cable news show is that every word in the script is supposed to be heavily vetted by producers and lawyers alike. So on the scale of news screw-ups, this was pretty egregious. It wasn't just an error — their entire report was based on what seems to have been a lie. Compounding the problem for CBS was that even after the report was first challenged (in the Washington Post), the show's executive producer Jeff Fager publicly pronounced that he remained "proud" of it.
For CBS News to maintain the reputation of 60 Minutes, they had to treat this with the utmost seriousness. But did they need to suspend Logan indefinitely? Does that mean she was responsible for one the greatest pocks on the reputation of the 45-year-old program, and not, say, her production staff, leading all the way to the top of CBS News?
Put aside how much involvement she actually had in the final product. While it's simply a reality that often newsmagazine correspondents have a limited role and the producers write the piece, vet the information, etc, that cannot be an excuse. All correspondents have to ultimately take responsibility for what they say on-the-air; but we are disappointed because this indefinite suspension also suggests that there is no such thing as building good will or, shall we say, banking credit at an institution like CBS News.
Yes, there should be ramifications and, yes, this story will forever be linked with Logan; but does that mean she has no remaining credit for everything else she has done for the network? The countless hours she spent in dangerous lands doing excellent (and Emmy award-winning) reporting on the War in Iraq, terrorism in the Middle East, and international drug cartels. Not to mention the horror she endured in Egypt, in 2011, when a Cairo mob brutally beat and sexually assaulted her while she was reporting for CBS News. She was in the hospital for days as a result of injuries she sustained. We are not suggesting that attack should mean she gets a pass on any reports she files, but are there no remaining CBS "brownie points" for all the difficult, compelling work she has done?
The CBS internal investigation lists the variety of ways Logan's report failed the network's rigorous standards, but many of the problems seem to stem from poor vetting and research on the part of 60 Minutes production staff as a whole. The report suggests Logan and her staff should have used CBS resources more, but under Fager's reign, 60 Minutes insists on working autonomously.
To be clear: Her suspension is indefinite. If they wanted to send a message, they could have announced that she had been given a stern warning (as was ABC's Brian Ross after he wrongly and preemptively suggested a connection between the Aurora shooter and the tea party). They could have even suspended her for a week just to make the point, but indefinitely? That sure sounds like if she is ever coming back to CBS, it's not for a long while.
If this point was so important to make then why wasn't her executive producer Fager suspended indefinitely too? Yes, maybe they believe she deserves more of the blame but could it be that maybe she is just more replaceable too? Maybe he has even more credit banked with CBS brass?
We understand that the CBS News institution needs to protect itself and had to take some sort of action, but particularly to those journalists who travel to perilous places on behalf of news organizations (which are fewer and fewer these days), we believe this sends a message that the idiom "What have you done for me lately?" is not only true, it's become CBS network policy.
Have a tip we should know? tips@mediaite.com