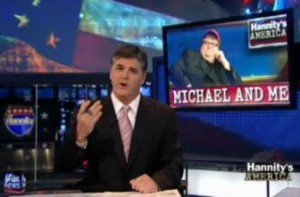 Something you don't expect to hear out of Michael Moore's mouth when referring to Fox News anchor Sean Hannity: "I love that guy!"
But that's exactly what he said, among other surprising statements, yesterday on Wall Street in an impromptu interview with FNC ambusher/reporter Griff Jenkins.
Hannity, of course, ate it up. "Am I dreaming?" he asked. "I wonder why he canceled on this very show then."
Then Moore went on to describe a bet he made with Hannity on the conservative host's radio show back in the Bush years, that former Pres. George W. Bush would be impeached before leaving office. If Moore won, Hannity would have to "wear a big button that says 'I love Hillary'" (hey, maybe Glenn Beck would do that), and if Hannity won, Moore had to stand in front of the White House with a sign that says 'Sean Hannity was right.'
Well, it wasn't D.C., but Moore paid up and said it right to the camera. "Ah words of wisdom from Michael Moore, finally he's seen the light!" joked Hannity.
Moore can be a bit of an ambusher himself when it comes to the media (and obviously in his movies as well). Just yesterday he made things uncomfortable talking about health care on ABC's Good Morning America and he had a famous showdown with Dr. Sanjay Gupta on CNN's The Situation Room about his last movie, "Sicko." No one is in the dark about Moore's politics, but he has not avoided Fox News (like, say, another famous person on the left). He had a lengthy sit-down that was with Bill O'Reilly that was tough, but calm, at the '04 Democratic Convention.
Moore was in town to promote his new movie, "Capitalism: A Love Story." For more on the movie, check out Rachel Sklar's columns about the premiere.
Here's the "Hannity's America" clip:


—–
» Follow Steve Krakauer on Twitter
Have a tip we should know? tips@mediaite.com