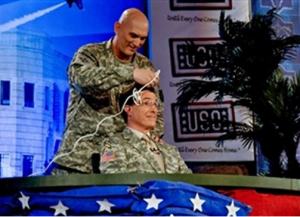 The Creative Arts Emmys happened over the weekend — the non-televised version of the awards show you'll see on Sunday, except with six dozen different and presumably not-ready-for-primetime categories. One category, however, used to be ready for Prime Time: the category for Outstanding Writing for a Comedy or Variety Show was previously seen on the grown-up broadcast. Alas, not this year — it, along with Reality TV host, was swapped out to the juniors, though of course no less important either way. Especially for this category, which had a ridiculously bumper year. As I wrote this weekend:
Also up for an Emmy in an exceptionally strong category: The Colbert Report, The Daily Show, Saturday Night Live and Real Time with Bill Maher. Honestly, with the exception of Bill Maher who that one goes to is anyone's guess — Conan is the sentimental favorite (and submitted his final show for consideration), but then again the SNL submission was for the Betty White ep, which was exceptionally strong (remember, it featured returning luminaries like Tina Fey, who had a hand in at least one sketch). Meanwhile, before you get too comfortable, consider that The Colbert Report submitted no less than a ground-breaking episode from Iraq — and The Daily Show submitted the episode with Jon Stewart's epic 13-minute takedown of Glenn Beck. So really, it's anyone's game.
Well, as it turns out, it was Colbert's game. So, congratulations to Team Colbert — it will seem extra-sweet, I'm sure, at next month's show celebrating U.S. soldiers returning from Iraq.
Other Emmy highlights: Betty White winning for SNL and Neil Patrick Harris winning for Glee (and the Tonys!). No doubt there were many others since there were six freaking dozen categories and over a thousand nominees. Read all about who won what courtesy of Steve Pond at The Wrap. In the meantime, enjoy some of the nominated comedic work below:
The Colbert Report: Gen. Odierno Shaves Stephen's Head

The Daily Show: Conservative Libertarian

SNL: Betty White is Bluffin with her Muffin


The Tonight Show with Conan O'Brien: Freebird
Have a tip we should know? [email protected]