Casey Anthony Verdict Gives HLN Its Best Month Ever In Terms Of Total Viewers; Fox News Still Top Rated Newser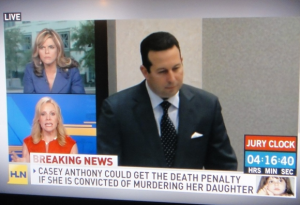 The July ratings period brought yet another overall win by Fox News, but the breakout star–no surprise–was HLN, where the network had its best month ever (total day) among both total viewers and viewers in the key 25-54 demo. HLN also ranked first among cable news networks in the dayside daypart (Monday to Friday, 9 to 5) thanks to the network's wall-to-wall coverage of the Casey Anthony murder trial. The verdict in the case, on July 5, was the most-watched event on cable or broadcast television, with more than 5.2 million viewers watching HLN between 2:15 and 2:30 p.m. as the verdict was read.
At Fox, the July ratings win marks 115 consecutive winning months (since January 2002). FNC, largely unaffected by the departure of Glenn Beck, finished first among cable news networks in primetime, but also fared well compared to all of basic cable, finishing in fourth place. Fox's strength is again clear in the ranking of top cable news programs for the month: FNC had eight of the top ten in terms of total viewers, and seven of the top ten among viewers 25-54.
MSNBC beat CNN in a battle to avoid a fourth-place finish overall, with MSNBC topping CNN by 20 percent among viewers 25-54 in primetime–the fourth month in a row that MSNBC has finished ahead in prime.
CNN landed in fourth place, but had notable successes, including a 40 percent increase in July among viewers 25-54 compared to the same month a year ago–growing more than MSNBC and Fox, which actually had a drop in viewership compared to a year ago. CNN also won over MSNBC during the daytime in terms of both total audience and adults 25-54. Some of the network's top shows, like Anderson Cooper's AC 360 had strong growth, up 56 percent among viewers 25-54 in July.
CNN's digital franchise also grew strongly compared to a year ago, with CNN.com hitting 1.2 billion page views and 89.1 video views worldwide.
Have a tip we should know? tips@mediaite.com