In Memorial Address, President Obama Pleas For Discourse 'Worthy Of Those Lost'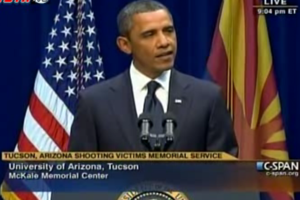 It was the keynote address at tonight's memorial for the tragic events of last Saturday, and the first time President Obama was given a full platform to address the nation and attempt to heal its wounds. In a poignant address filled with scripture, the President individually honored those killed and injured, plead with Americans not to "turn on one another," and offered the best news about Rep. Gabrielle Giffords of the night: she opened her eyes today.
"There is nothing I can say that will fill the sudden hole torn in your hearts," he began, lending the audience condolences but making clear he did not expect them to help much. He then mourned with them, individually, for each of the victims of the attack. "These men and women remind us that heroism is found not only on the fields of battle," he said of them after finishing the list, "Heroism is here, all around us, in the hearts of so many of our fellow citizens, just waiting to be summoned."
The speech was very often interrupted by applause and, occasionally, standing ovations for those like Daniel Hernandez, the intern who ran to Rep. Giffords rescue upon hearing the gunshots, and for 9-year-old Christina Taylor Green. But by far the greatest applause came for the most surprising, most uplifting news of the night: Rep. Giffords opened her eyes today for the first time. Among those standing in the crowd, clearly stricken with the pain of watching her recover was husband Mark Kelly, who sat beside First Lady Michelle Obama.
The President then moved on to address just what the nation must do to face the tragedy, to "impose some order on the chaos and make sense out of that which seems senseless." He noted that "scripture tells us there is evil in the world," that there was no explanation to the shooting, and then issued a soft-toned plea to Americans to keep from blaming each other for this mess, without mentioning anyone or any ideology by name. He noted that those in the public political sphere are especially responsible for keeping from turning on each other, but was far from touching any of the specific points in the current national conversation– no crosshairs or gun imagery came up, nor any candidates or pundits on either side. They didn't need to (emphasis added):
"Already we've seen a national conversation commence, not only about the motivations behind these killings, but about everything from the merits of gun safety laws to the adequacy of our mental health systems. Much of this process, of debating what might be done to prevent such tragedies in the future, is an essential ingredient in our exercise of self-government.

But at a time when our discourse has become so sharply polarized – at a time when we are far too eager to lay the blame for all that ails the world at the feet of those who think differently than we do – it's important for us to pause for a moment and make sure that we are talking with each other in a way that heals, not a way that wounds.

[…]

But what we can't do is use this tragedy as one more occasion to turn on one another. As we discuss these issues, let each of us do so with a good dose of humility. Rather than pointing fingers or assigning blame, let us use this occasion to expand our moral imaginations, to listen to each other more carefully, to sharpen our instincts for empathy, and remind ourselves of all the ways our hopes and dreams are bound together."
In closing, the President evoked the view of America that young Christina Taylor Green, when wanting to visit the Congresswoman, must have had, and a debate "worthy of those we have lost," and promised to "commit ourselves as Americans to forging a country that is forever worthy of her gentle, happy spirit." The crowd, on its feet, received the remarks with praise– we'll have to wait to see if the news media will react similarly.
the President's full speech (in two parts) below:
Part I

Have a tip we should know? tips@mediaite.com