In Midst of MH17 Tragedy, Australians Unable to Get Ahold of Vacationing Russian Foreign Minister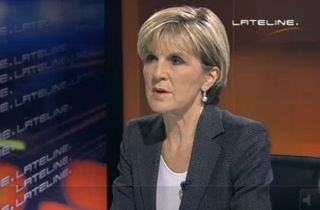 Despite the fact that Australia suffered some of the highest casualties in the crash of MH17 yesterday, the country's foreign minister revealed in an interview that she could not get in touch with her counterparts in Russia — because they were on vacation.
Foreign Minister Julie Bishop told an interviewer on the Australian program Lateline that, given the scale of the crisis, she found their stonewalling "extraordinary," and detailed how she had asked the Russian ambassador to Australia to connect her with his country's Foreign Minister, Sergey Lavrov.
"Later I was informed that Minister Lavrov was on holiday, and he could not be contacted," she recounted. "After some time, I then asked to speak to a deputy or vice minister, but I've now been told I won't be able to speak to anybody in the Ministry of Foreign Affairs in Moscow."
28 Australians were aboard the Malaysia Airlines flight shot down by a surface-to-air missile, and international law states that countries with civilians aboard downed international flights must be allowed to participate in any investigations.
"In my conversation with the Russian ambassador, I sought full cooperation from Russia," Bishop added. "Given that Russia is blaming the Ukraine for this tragic act, I thought that the Russians would want to see a full, thorough, and international investigation as soon as possible."
Lavrov finally delivered a statement two hours ago, calling for a ceasefire between Ukrainian and pro-Russia rebel forces in order to conduct a full investigation, and adding that Russia would not take the plane's black boxes.
Watch below via the Australian Broadcasting Corporation:

[Sydney Morning Herald]
[Image via screenshot]
—
>> Follow Tina Nguyen (@Tina_Nguyen) on Twitter
Have a tip we should know? tips@mediaite.com