In New Documentary, A Usually Reticent George H.W. Bush Has Harsh Words For Ross Perot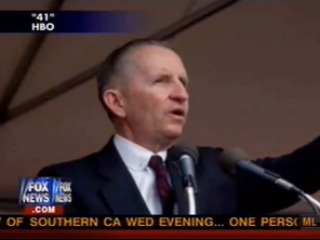 Although former president George H.W. Bush has remained relatively quiet and out of the spotlight since his time in office, he's agreed to open up about his thoughts and experiences in 41, a new documentary airing this weekend on HBO. Among the topics a usually reticent President Bush spoke candidly (if somewhat hesitantly) about is his former rival, Ross Perot.
RELATED: Former President George H.W. Bush Tearfully Reflects On Life And Death
The documentary's director, Jeffrey Roth, spoke with Fox & Friends host Gretchen Carlson about the documentary — particularly, how challenging it was to get Bush 41 to agree to do it in the first place — in a segment that kicked off with this heart-wrenching quote from the film:
I can't do any sports that I've lived my whole life doing; nobody asks me to be on the team anymore. Remember how you used to stand around, saying "you there, no no next to you, then take you, you, you." I'm standing there and nobody wants me because I can't move very well. This is a metaphor. But. I miss it.

With boats, I'm still in the game. And now I am privileged to have a very fast boat, a very powerful boat and everyone wants to go on. It's a a wonderful, wonderful outlet for me.
Later, Carlson showed a clip of Bush sharing that there seemed to be a unanimity in the press that his Democratic rival, Bill Clinton, should win, giving credit to Clinton for running a successful campaign. When asked to then comment on Ross Perot, Bush said the following:
No. I think he cost me the election and I don't like him.
Have a look, via Fox News:
Have a tip we should know? tips@mediaite.com