In NY Times Column, Maureen Dowd Dreams Of A Stronger 'Superhero' Obama
NY Times
: Maureen Dowd Dreams Of A Stronger 'Superhero' Obama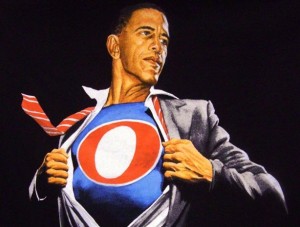 Maureen Dowd's latest column in The New York Times is titled "Dreaming of a Superhero," and it's all about the president. Yes, Dowd went down a whole laundry list of disappointments people have about Barack Obama, from his foreign policy to his waning charisma to his unwillingness to take big risks. While she didn't completely dismiss Obama's long-term strategy, she made it quite clear that he needs to "boldly lead" and can't still be trying to "find… himself" when there's "a storm brewing."
RELATED: Ex-CNNer Campbell Brown Tells Obama To 'Stop Condescending To Women' In NY Times Column
Dowd observed that when George W. Bush returned to the White House to unveil his portrait, the press seemed to be basking in the warm mist of nostalgia, which she sees as a sign that "the Obama magic is flagging." She notes the president cannot seem to inspire people in the same way he used to.
The president who started off with such dazzle now seems incapable of stimulating either the economy or the voters. His campaign is offering Obama 2012 car magnets for a donation of $10; cat collars reading "I Meow for Michelle" for $12; an Obama grill spatula for $40, and discounted hoodies and T-shirts. How the mighty have fallen.

Once glowing, his press is now burning. "To a very real degree, 2008's candidate of hope stands poised to become 2012's candidate of fear," John Heilemann wrote in New York magazine, noting that because Obama feels he can't run on his record, his campaign will resort to nuking Romney.
Dowd argues that Obama's leadership style may work for some, but it ultimately means he is not willing to get his hands dirty with Congress and ultimately "ced[es] control of his narrative." Whereas he used to be the next Great Communicator, Dowd feels he has not been able to adequately communicate any of the big legislation he has fought for in the last three and a half years.
She highlights an attack by Mitt Romney claiming the president is "more focused on his perspective of his historic legislative achievements than he has been focused on getting people back to work." While Dowd does not necessarily agree with his point, she says Romney very carefully honed in on one of Obama's big weaknesses. Namely, "float[ing] above, at a reserve, in grandiose mists."
Read the full column here.
Have a tip we should know? tips@mediaite.com
Josh Feldman - Senior Editor