In Orlando, TV Station Sticks With Casey Anthony Trial…Even When There Is No Casey Anthony Trial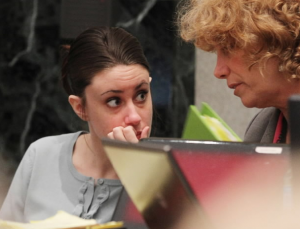 In Orlando, the murder trial of Casey Anthony is a massive media event, with each of the market's major local stations covering the trial wall-to-wall. On Monday, one station, WKMG-TV even found a way to go beyond wall-to-wall, sticking with live trial coverage even after the trial wrapped for the day. In a fit of frustration with lawyers on both sides of the sensational trial, Chief Judge Belvin Perry sent the case into recess early yesterday, and faced with no live trial to cover, stations returned to their normal programming. But not WKMG, which the Orlando Sentinel's Hal Boedeker notes has seen its ratings rise with Anthony coverage. So why stop just because the trial did?
Nope, viewers were given a treat: a second chance to watch Saturday's trial proceedings, with brand new live commentary and analysis from WKMG's legal guru Mark O'Mara and reporters Tony Pipitone and Mike DeForest. The live coverage of two-day-old trial developments meant pre-empting two hours of CBS daytime programming and one syndicated talk show. "We believe interest in the trial warrants continuing coverage," said WKMG general manager Skip Valet told the Sentinel. "Consistency for viewers is a good thing. They know what to expect from us."
And he's got a point. The overnight ratings? Have a look:
The CBS affiliate averaged 35,500 homes from 1:30 to 5 p.m. WKMG was ahead of the competition, which returned to regular schedules: WOFL-Channel 35 with 26,800, WESH-Channel 2 with 25,300, WFTV-Channel 9 with 21,500 and Central Florida News 13 with 16,300.

WESH, however, was the afternoon winner in the 25-to-54 age group. WESH had 10,100 viewers in the age group to WKMG's 9,700 and WFTV's 8,300.
Have a tip we should know? tips@mediaite.com