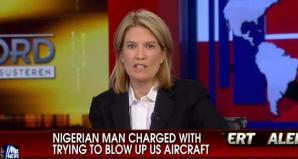 A lot is made here and elsewhere about the changing cable news business, which seems to show viewers want opinion more and more.
Which made it refreshing to see Greta Van Susteren and Larry King on Fox News and CNN Saturday night, anchoring live special coverage of the attempted terror attack.
The presence of Van Susteren and King at 9pmET last night further highlighted what was happening on the third main cable news network, MSNBC – which was showing a Lock Up marathon during prime time. As Rachel Sklar noted on Christmas night, it was more (or less) of the same for the NBCU cable outlet. "Yeah, it's Christmas," wrotes Sklar Wednesday. "THAT'S THE POINT. If you're going to call yourself a news network, then cover the news."
But it wasn't just that CNN and Fox News made the choice to go live to cover the developing story, which still was seeing new details emerge days after the incident. It was the decision to put two prime time anchors, two of the mainstays at their networks, in the spotlight. Van Susteren's 10pmET On The Record is enjoying another year of tremendous ratings, and with two opinion hosts acting as lead-in, she remains the hard news aspect of FNC's prime time. King, of course, has been leading Larry King Live at 9pmET on CNN and continues to be a place for newsmakers to tell their story.
Both were excellent last night in prime time (Van Susteren anchored for two hours), as were the other reporters and analysts who contributed to the broadcasts. It shows just how important CNN and Fox News considered the story.
MSNBC's decision to stick with their regular programming has played out so many times before it should no longer be considered surprising. They're live in the mornings on weekends, and show a few minutes of news cut-ins throughout the day and into the evening, but for the most part, MSNBC is the place for prison docs on Saturday and Sunday. It was only made more glaring last night, when two big stars came in from their post-Christmas weekend to cover a story that matters.
Below are clips from Van Susteren and King last night:


—–
» Follow Steve Krakauer on Twitter
Have a tip we should know? [email protected]