In Rose Interview, Assad Invokes 9/11, Threatens Retaliation: 'Expect Every Action'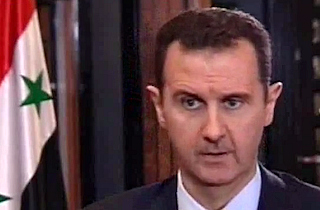 In an interview with PBS' Charlie Rose, Syrian President Bashar al-Assad dared Secretary of State John Kerry to present evidence of his responsibility for chemical weapons attacks, and warned of unforeseeable consequences if the United States struck Syria, invoking 9/11 several times.
CBS This Morning aired excerpts of the interview Monday morning, which will be broadcast in full on PBS this evening.
Assad doubted the evidence that his regime had used chemical weapons in a recent attack that left almost 1,500 Syrians dead, one-third of them children.
"How can you talk about what happened if you don't have evidence?" Assad said. "We're not like the American administration. We're not a social media administration. We deal with reality."
"What Kerry said reminds me about the big lie that Colin Powell said in front of the world about the WMDs in Iraq before going to war, when he said, 'This is our evidence.' Actually he gave false evidence. In this case Kerry didn't present any evidence."
Assad also warned of the effects a drawn-out war could have on the U.S.'s reputation. "American credibility is at an all-time low," he said, adding, "This war is against the interests of the United States. This is a war that is going to support al Qaeda, and the same people that killed Americans on the 11th of September."
Rose asked him what repercussions the United States could expect in the event of a strike.
"You should expect everything," Assad said. "Not necessarily through the government. The government is not necessarily the only player in this region…Expect every action."
"Including chemical warfare?" Rose asked.
"That depends," Assad said. "If the rebels or the terrorists in this region have it, it could happen. I don't know…Nobody expected the 11th of September."
Watch the full clip below, via CBS News:
Part 1:
Part 2:
Part 3:
[Image via screengrab]
——
>> Follow Evan McMurry (@evanmcmurry) on Twitter
Have a tip we should know? tips@mediaite.com