In Wide-Ranging Interview, Christie Separates Romney's Views On Women From 'Background Noise' Like Todd Akin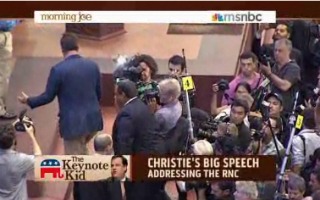 Morning Joe's Joe Scarborough and Mika Brzezinski had a lengthy, in-depth interview with New Jersey Governor Chris Christie in anticipation of his RNC keynote address. The three were closely followed by a veritable horde of photographers clicking away as they made their way around the convention floor.
The interview covered a number of topics, including whether Romney is "conservative enough," and whether this convention will allow him to "reset the tone of the campaign," as Brzezinski put it. Christie noted that officially earning the party's nomination at the convention should be sufficient proof that Romney is, indeed, "conservative enough" for his fellow Republicans.
As for his speech, Christie admitted that he's not used to writing speechs beforehand and using teleprompters or prepared text when he speaks. He said his goal is to simply be natural and "be himself" – a theme recurring throughout his interview.
Later, for instance, when Scarborough asked Christie about his surge in popularity since 2009, the Governor chalked it up to his adherence to being himself. "I haven't changed from the time I got into this job to now," he said, adding that people in New Jersey can tell he means what he tells them.
As for the election, Christie said voters are still in the process of getting to know Romney, and have already had four years to really know and understand Obama. "I mean, there's no miracle that's going to happen between now and November," he said. "'Oh, I didn't know that about President Obama! But now that I know that, I'm definitely going to vote for him.'" But, he said, there still can be moments like that for Mitt Romney, particularly throughout the GOP convention.
As for women voters, Christie said Romney has to work better to show them "who he is." The Governor also attempted to create a divide between Romney and others within the party, pointing out Todd Akin in particular as part of the background noise voters should ignore, and a "joke" who should drop out of his senate race. The challenge is in speaking directly to women instead of telling them what he thinks they want to hear.
Check it out, courtesy of MSNBC:
Have a tip we should know? tips@mediaite.com