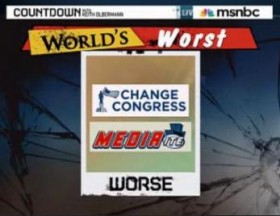 Keith Olbermann awarded the gold last night during his "Worst Persons" segment to Glenn Beck, again, the silver to Republican Sen. John Cornyn and the bronze to Mediaite.
Here's how we got to this point.
Mediaite, managing editor Colby Hall and associate editor Robert Quigley joined the group "Change Congress" and one of its founders, Prof. Lawrence Lessig, for a crowded bronze medal on "Worst Persons" last night. The crux of the story related to this post from yesterday morning about an Olbermann segment appearing in a Change Congress ad. Here's Olbermann:
Professor Lessig and his group apparently put together a minute-long video criticizing blue dog Arkansas Democrat Mike Ross and about half of it is taken from my Special Comment of August 3rd. Change Congress never contacted me or us at the network for our permission to use the video, permission they do not have. We'll be asking them to remove the video. Just as importantly, Mediaite or Mr. Quigley never contacted me or us for comment, in fact their post was the first anybody here had heard about the video. Yet the site had the audacity to write, "It's not clear if Olbermann explicitly volunteered to be in the ad, he almost certainly could put the kibosh on it if he wanted." How exactly would I have done that if I didn't know anything about it? I'll wait. (long pause)
The post raised questions about the ad and Olbermann's involvement in it – questions that were answered quickly in an update, with comment from an MSNBC spokesperson. The updated post reflected all the information Olbermann says here. By 1:30pmET, an entirely new post, headlined "MSNBC Demands Political Group Stop Running Unauthorized Olbermann Ad," was up as the top story of Mediaite. This was more than six hours before Countdown went on-air with old, outdated information. There wasn't one more "worst" thing occurring in the world?
The argument could be made that Olbermann and his staff didn't go and check Mediaite after the first 'audacious' post…except for what happened on his show just six minutes earlier. In a segment about his favorite topic, Fox News, Olbermann extensively cited an email from Fox News Washington managing editor Bill Sammon. An email that was obtained by Mediaite only, and published here exclusively. Other sites had no problem citing the source as Mediaite when discussing the email – but apparently Olbermann didn't feel the need to give proper credit, or any credit at all. If Countdown were a blog, it would be chastised for the move. Why should a cable news show be held to a different standard?
Olbermann closed with:
Also, you guys should explain how you think you're a journalism-based website if you close the piece with "we've reached out to MSNBC for comment and are awaiting their feedback." That's not the way it works, you're supposed to get the comment first, before you write. Thank you.
Also, if you consider yourself host of a journalism-based cable news show, you're supposed to cite where you get information. Thank you.
Here's the "Worst" segment:
—–
» Follow Steve Krakauer on Twitter
Have a tip we should know? tips@mediaite.com