Incredibly Dark Boston Columnist: 'We Will Never Be Safe,' Increased Security Is 'All For Show'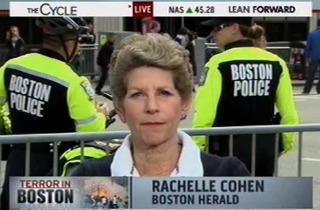 Joining MSNBC's The Cycle, Rachelle Cohen, editorial page director for the Boston Herald, delivered an especially grim prognosis for the future of security in her city. In the wake of the deadly Boston Marathon bombings on Monday, Cohen told the MSNBC hosts that "we will never be safe" unless the United States is willing to adopt an intrusive security regime similar to Israel's. She said the security measures America adopted after 9/11 were merely "for show," and Bostonians would not put up with a more invasive security regime for long.

RELATED: The 10 Absolute Worst Media Reactions To The Boston Marathon Bombings
"I think we will be in the usual vicious cycle," Cohen said of the new security measures that Boston could consider in order to prevent future attacks like Monday's.
We will have our bags searched when we're going into the subway station again until we get tired of that and we become contemptuous of that again, because it is all for show. I mean, that's all we had yesterday. There were the bomb-sniffing dogs – they just happened to be sniffing on the wrong side of street. And so, we will never actually be safe, unless we want to do things like other countries have done. Like Israel has done.
"If we want to have armed guards at every T station for the rest of our natural days, if we want to have armed guards in front of hotels, and restaurants, and nightclubs, we can probably be safe – or, at least, safer," she added.
"We're Americans. We're Bostonians. We're not going to put up with that for very long," Cohen concluded.
Watch the clip below via MSNBC:
> >Follow Noah Rothman (@NoahCRothman) on Twitter
Have a tip we should know? tips@mediaite.com