Incredibly Offensive Billboard Comparing Obama To Aurora Shooter Captures Smugness Of Libertarianism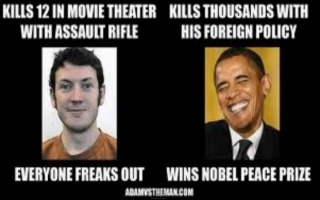 An electronic billboard in Idaho comparing President Barack Obama to alleged mass murderer James Holmes is causing a firestorm of controversy. The billboard links the President's policies to the results of a rampage that the 24-year-old Holmes is accused of engaging in last week in which he killed 12 people and injured scores more.

The billboard shows images of both Holmes and Obama. Under Holmes' picture, the billboard notes, 'Kills 12 in movie theater with assault rifle – everyone freaks out." Under Obama's image, the billboard reads, "kills thousands with his foreign policy – wins Nobel Peace Prize."
The billboard is sponsored by the Ralph Smeed Foundation – a group which supports causes favored by the late libertarian activist.
The smugness of the billboard's message, augmented by an utter disregard for the potential validity of opposing views, encapsulates why libertarianism is a minority point of view in this country and barely registers as a political force. It's not the message, it's the messengers.
This group has simultaneously managed to offend both supporters of President Obama – many of whom would probably be predisposed to embrace arguments against the President's robust pursuit of Al Qaeda terrorists on foreign soil – and Republicans who would otherwise be perfectly willing to criticize the President even if they support the war on terror.
This billboard has somehow managed to offend everyone even with a winnable argument in their hands. How is that possible? Well, it is due only to this group's inescapably evident self-righteousness.
In fact, there is no attempt to win an argument. This group is clearly not interested in changing hearts or minds. If they encounter opposition, it is only from those too simple minded or murderous to not see the correctness of their policy proscriptions.
More often than not, those who are attracted to libertarian principles of sharply curtailed government have the most well-meaning of motives and are profoundly stronger spokespeople for their ideology than the group behind this billboard.
Why is it, then, that these types of groups so often become the standard bearers for an eminently reasonable philosophy? Who knows. But a little self-policing within libertarianism would cut down on these embarrassing and discrediting episodes.
Watch a segment on the billboard via CNN:
> >Follow Noah Rothman (@Noah_C_Rothman) on Twitter
Have a tip we should know? tips@mediaite.com