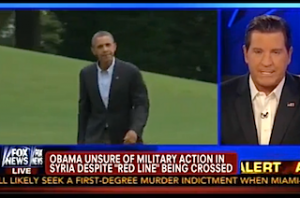 Fox's Eric Bolling opened The Five Wednesday with a blistering attack against President Obama's "indecision" on a potential U.S. military strike in Syria. Bolling accused the president of "flip-flopping" on the issue and made an aggressive case against intervention.
"Has America lost influence on the world stage due to President Obama's flip-flopping?" Bolling asked. "This president seems naive and clearly is learning on the job. What would President Reagan do? Or President Bush? While I don't think we should be going into Syria, this president has been changing his position more than Miley Cyrus at the VMA's and that is becoming problematic." He said the U.S. should "back off bombing Syria. We need more proof before we kill more people."
When he was done with his intro, Bob Beckel accused Bolling of delivering "one of the most biased openings" he's ever done. He took particular offense to the "flip-flop" accusation, saying, "he said the same thing every time he said it. It's a red line, when cross it, we're going to do something. They crossed it, we'll do something."
When Beckel pointed out that Reagan put 2,000 marines in Lebanon where 247 died, Bolling said whatever Reagan would do in this case, at least he would be "decisive" about it. But the bigger issue, he said is "I don't think we should go. I think we should wait.
Andrea Tantaros backed Bolling up, lambasting the president for sitting down for an interview with PBS NewsHour to discuss what she called a "do-nothing missile strike." She said Syria "makes Iraq look like small potatoes" and said "getting involved is a huge mistake."
Bolling went on to lay out various reasons that the U.S. should not intervene in Syria, including the idea that some people think "Muslim extremists killing Muslim extremists isn't necessarily a bad thing for America."
If it's merely "Muslim extremists" killing each other, Beckel shot back, "how do you account for children in the hospital?"
Bolling seemed to admit that "women and children are dying" in Syria, but said, "we don't know who is doing it. We are hearing through reports out of Israel that it's the Syrian government. We don't know that for sure."
Watch video below, via Fox News:
[photo via screengrab]
—
>> Follow Matt Wilstein (@TheMattWilstein) on Twitter
Have a tip we should know? tips@mediaite.com