Fox & Friends Goes After Dem Leader For 'Direct Politicization' Of Bombing By Linking It To Sequester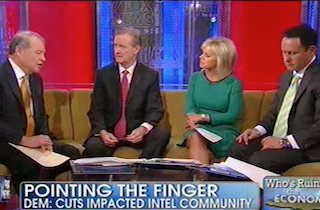 The Fox & Friends crew, joined briefly by Stuart Varney, singled out House Minority Whip Steny Hoyer (D-MD) on Wednesday. Highlighting the comments Hoyer made yesterday, in which he linked the sequestration cuts to the Boston bombings, the Fox hosts decried the "direct politicization" of an attack on our soil.
Hoyer said the bombings are "clearly another place where it demonstrates why having the ability to address security concerns is important." He added:
"I think there are multiple reasons for ensuring that we invest in our security both domestic and international security. That we invest in the education of our children, that we invest in growing jobs in America and don't pursue any irrational policy of cutting the highest priorities and the lowest priorities by essentially the same percentage."
"This is the direct politicization of an outrage, an attack on America," Varney asserted, arguing that while it may be inevitable, it's still wrong. Not to mention: "Did the sequester cuts, did that in fact affect our intelligence-gathering capability, which impeded before the Boston happening?" We simply don't know, he contended, by Hoyer was "implying directly that."
Brian Kilmeade pointed to the joint terrorism task force following 9/11, noting, "There was a dissemination of powers and responsibilities irregardless of sequester or anything else."
"Nobody said, 'Excuse me, I don't get paid for this.' Have you seen anyone get on line and say, 'Sorry, today's my furlough day'?" he further asked. He also went on to question why Hoyer, being in a leadership position, didn't propose any solutions himself.
Anything negative that's happened recently, Varney argued, has been linked to the sequester. And there's a simple reason for it: The president and Democrats said the "sky will fall" after the cuts hit. Now they to find a way to back that up.
Take a look, via Fox News:

Have a tip we should know? tips@mediaite.com