Infectiously Positive Man Implores Americans To Pay Down The Debt By Donating From Their Paychecks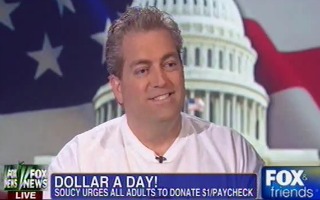 When is the power of positive thinking not sufficient to solve to a pressing problem? Most of the time, actually, but particularly in the case of America's spiraling national debt and the looming crisis that mounting debt presents. Since the end of August, America's debt as ballooned by $400 billion – 100 billion more dollars than there are stars in the Milky Way Galaxy. For businessman Scott Soucy, stopping this runaway spending is a challenge he is ready to tackle. This jolly fellow has a plan to get America's lawmakers to the table to address the debt, and that is by paying it off ourselves. If every American donated $1 out of every paycheck, Soucy said with a beaming smile, the debt crisis could be addressed, if not solved entirely.

Soucy joined Fox & Friends on Friday to discuss his $1 initiative which he has been participating in for the last two years. Soucy has been sending a portion of his paycheck – above and beyond the payroll taxes, which are automatically deducted from his earnings, and the income taxes he pays quarterly or annually – to the government with the express instructions that it be applied towards the debt.
Soucy told Kelly Wright that "80 to 90 percent of the time," the reaction that people have towards his proposal is as overwhelmingly positive — just as Soucy is himself.
"It's a huge good faith offer form the American people," he said. "We want to help."
"This is a common bond right here," Wright said, evidently overcome by Soucy's infectious enthusiasm. "We can all pitch in and help and say 'we're proud of our country.'"
"Our debt is not broken up into Democratic or Republican debt. This is the common ground we have together," Soucy said.
Wright pointed out that $7 million has already been donated to the government to be put towards the debt, which is approximately enough to fund the government for three minutes. "Awesome," Soucy replied.
Lest you be confused, Soucy was not using "awesome" in the biblical sense — as in, how you might describe a devastating tsunami or an catastrophic plague. He thought those results were simply dandy.
"That's a victory," Soucy continued. "That is such generosity."
Soucy himself has donated approximately $500 to servicing the debt. It has made him feel better, and that's lovely. Personally, an HD television, plane tickets to Florida or even 250 hot dogs would make me feel just as good, and I would acutely be getting something out of the deal. If your goal is philanthropy, $7 million can do a lot of good in this world. There are countless charities which do not hopelessly mismanage their donations.
If positive thinking is your thing, purchase a Tony Robins book. If you think that paying down America's debt should be a national priority, but results are also kind of your thing, don't donate your money to the treasury.
Watch this clip via Fox News Channel:
> >Follow Noah Rothman (@Noah_C_Rothman) on Twitter
Have a tip we should know? tips@mediaite.com