Influential Labor Union Gives Endorsement To…Parks & Recreation's Leslie Knope?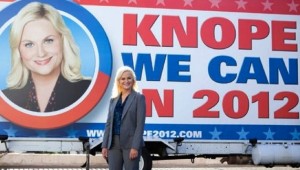 Unions are going to play a major role in this election, and one of the largest unions in the country has announced its endorsement of a popular political figure. There's just one caveat: it's a fictional character. Yes, the American Federation of State, County, and Municipal Employees (AFSCME) has announced that they are officially endorsing Leslie Knope, main character of the NBC sitcom Parks & Recreation to be the next city council member in Pawnee, Indiana.
RELATED: Good News, Television And Paper Enthusiasts! You Can Now Buy Dunder Mifflin Paper In Real Life!
In the show, Knope is running against Bobby Newport (played by Paul Rudd) as the more politically-savvy candidate in the race. The show's creators have kept the results under wraps. In fact, they're so committed to keeping the winner a secret, they filmed three separate endings to the episode. But maybe the real-life endorsement will influence their decision.
AFSCME issued a press release last Thursday (and set up an accompanying Tumblr page), where they explain that their mock endorsement has a very real goal: getting Poehler to speak before a union meeting in June.
The American Federation of State, County and Municipal Employees (AFSCME), which represents 250,000 parks and recreation workers nationwide, today endorsed the candidacy of Leslie Knope for city council in Pawnee, Ind., in a blatant attempt to draft Amy Poehler to speak at the public employee union's biennial convention in June. AFSCME Pres. Gerald W. McEntee had this to say about the endorsement:

"We proudly endorse Leslie Knope for Pawnee City Council. Knope's public service and her passion for making our communities safer, healthier and stronger make her the right person for the job."

The AFSCME endorsement is part of a campaign to draft Amy Poehler, the star of Parks and Recreation, to appear at the union's biennial convention this June in Los Angeles. McEntee also had this to say in a blatant attempt to curry favor with Poehler:

"AFSCME members would be thrilled to have Amy Poehler at our convention. We are prepared to Ramp Up our campaign to draft her, and we will even have waffles for her backstage if she accepts."
Of course, if Leslie Knope is going to be anywhere, so is her posse, so you'd better be ready to lay out all the bacon and eggs you have.
Have a tip we should know? tips@mediaite.com
Josh Feldman - Senior Editor