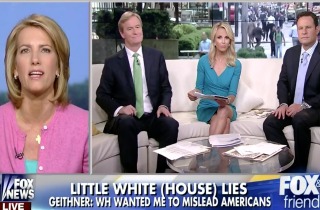 Conservative radio host Laura Ingraham joined the hosts of Fox & Friends to weigh in on former Treasury Sec. Timothy Geithner's revelation that he was asked by White House political staffers to downplay Social Security as a driver of the nation's debt so as not to offend the Democratic base. Ingraham said that Geithner had a duty to resign when he was asked to mislead the public and he should not have disclosed these revelations in a book.

In his book, Geithner revealed that Senior Advisor to the President for Strategy and Communications Dan Pfeiffer asked him to de-emphasize the impact Social Security has on America's deficit ahead of an appearance on the Sunday talk shows. Pfeiffer said that calling Social Security a deficit driver would serve as a "'dog whistle' to the left."
"We now know that the left considers its base a bunch of unruly canines," Ingraham observed.
RELATED: Tim Geithner Called Dinesh D'Souza a 'Dick' to His Face for Outing Gay Students
"Didn't Tim Geithner, as a public servant, have a duty to actually resign at that point?" she asked. "Or go to the American people and say, 'You know something, I'm being asked to say things that are actually untrue and I'm not going to do it because I believe in ultimate truths.'"
Ingraham said that it is not enough for Geithner to reveal this incident in his memoir. Rather, the host insisted, he should have come out publicly at the time.
She went on to say that's she would have declined if she approached to do that kind of "dirty work" by her employer.
Watch the clip below via Fox News:
[Image via screengrab]
— —
>> Follow Noah Rothman (@NoahCRothman) on Twitter
Have a tip we should know? tips@mediaite.com