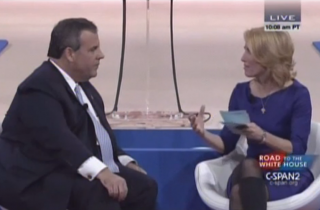 In lieu of a traditional speech before the 2015 Conservative Political Action Conference, Gov. Chris Christie (R-NJ) sat down with radio host Laura Ingraham for a series of questions on his brutish reputation, his low 2016 polling, his stance on social issues, and how he would differentiate himself from other possible 2016 contenders.
Asked about his reputation for "brash" and "loud" responses to criticism, Christie said the people who call him such words forget the real adjective: "Passionate." When Ingraham brought up his infamous "sit down and shut up" remark to a heckler, he drew audience applause by responding that "Sometimes people need to be told to sit down and shut up."
Ingraham repeatedly attempted to get Christie to either criticize or draw contrast from other possible 2016 Republican candidates — Jeb Bush on immigration policy and Scott Walker on social issues. On the former, he indirectly suggested the former Florida governor has misplaced priorities on immigration; on the latter, he attempted to paint himself as a staunchly pro-life Republican, in the same vein Walker has been painting himself as of late.
Perhaps the key moment of the Q&A came, however, when Ingraham asked the governor whether he is worried about the recent Public Policy Polling data showing him at only 5%, behind Walker (25%), Ben Carson (18%), Bush (17%), and Mike Huckabee (10%).
"Is the election next week?" Christie responded.
The governor also bashed the New York Times a handful of times, reminding everyone just how useful The Grey Lady is for Republicans looking to strengthen their bona fides with conservatives.
Watch the full Q&A below, via CSPAN2:
— —
>> Follow Andrew Kirell (@AndrewKirell) on Twitter
Have a tip we should know? tips@mediaite.com