Ingraham Grills Dem On Fiscal Cliff: Why Isn't Obama More Directly Involved In Negotiations?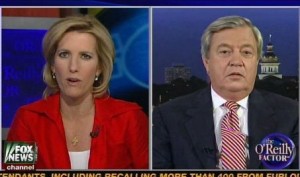 Both the Democrats and Republicans are being pressured to come to a compromise and avoid the fiscal cliff by December 31st, but many lawmakers are standing their ground. Laura Ingraham, guest-hosting Bill O'Reilly's show tonight, pushed South Carolina Democratic Party Chairman Dick Harpootlian on how distant President Obama has been from the actual negotiations and how stubborn the Democratic side is being, referring to Harry Reid in particular as "immature."
RELATED: Scarborough Chides Fellow GOPers: 'Extreme' Stances Led To Worst 'Disarray' Since Nixon Resignation
Ingraham asked Harpootlian why Obama always sounds like he's not a Washington insider when he talks about the political process, or at least like he's above it. Harpootlian argued that Obama is trying to do the best he can with a "dysfunctional" House, and he's probably frustrated with John Boehner for not being able to work out an agreement with the House GOP.
When Harpootlian brought up how the Senate has pending legislation that the House hasn't acted on, Ingraham pointed out the converse has been true time and time again. She acknowledged that there are some issues regarding the House GOP, but said Obama has not been "an active player" in the negotiations, preferring to work from a distance. Ingraham also pointed out that Reid has been as intransigent as Boehner has, concluding that both sides have dug their heels in too much to compromise.
Harpootlian pointed out that when George W. Bush needed a stimulus package in 2008, it was passed by the Democratic-controlled consequences, to point out that consensus can be found in Washington when both sides realistically understand the consequences of inaction. Ingraham brought up Reid saying yesterday he won't consider anything being brought to him by the Republican-led House, which she described as "immature" and "ridiculous."
Watch the video below, courtesy of Fox News:
Have a tip we should know? tips@mediaite.com
Josh Feldman - Senior Editor