Ingraham: Income Inequality 'Is a Problem' and It's 'Gotten Worse Under Obama'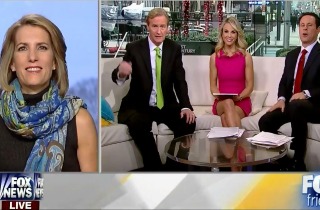 Conservative radio host Laura Ingraham took on claims made by congressional Democrats recently that "income inequality" is a significant threat to the stability of the economic recovery. Appearing on Fox & Friends on Tuesday, Ingraham detailed some statistics which she said indicates that wage disparities are a problem and they have become a problem as a result of President Barack Obama's policy initiatives.

The Fox hosts opened the segment by playing a clip of Rep. Rosa DeLauro (D-CT) who called the issue of wage disparity a "crisis" and an "existential threat to our nation and our way of life."
RELATED: Marco Rubio Rebuts Obama: Problem Isn't 'Income Inequality,' It's 'Opportunity Inequality'
Brian Kilmeade noted that DeLauro, being a multimillionaire, "would know a lot about inequality."
Citing a University of California Berkeley study, Ingraham said that the "1 percent of income earners in the Obama years" received 95 percent of salary gains, with "only 0.4 percent increase in wages for the rest of the country."
"If that's really a problem," she concluded, "I would submit it's a problem that is borne out of terrible economic policy, terrible trade policies, unbridled immigration, and a lurch toward amnesty which is only going to make it worse for income inequality. Yeah, it's gotten worse under Obama."
Host Steve Doocy ended the segment by submitting that the Democrats were also attempting to shift the subject of the national conversation away from the Affordable Care Act.
Watch the clip below via Fox News Channel:
[Photo via screen grab ]
— —
> >Follow Noah Rothman (@NoahCRothman) on Twitter
Have a tip we should know? tips@mediaite.com